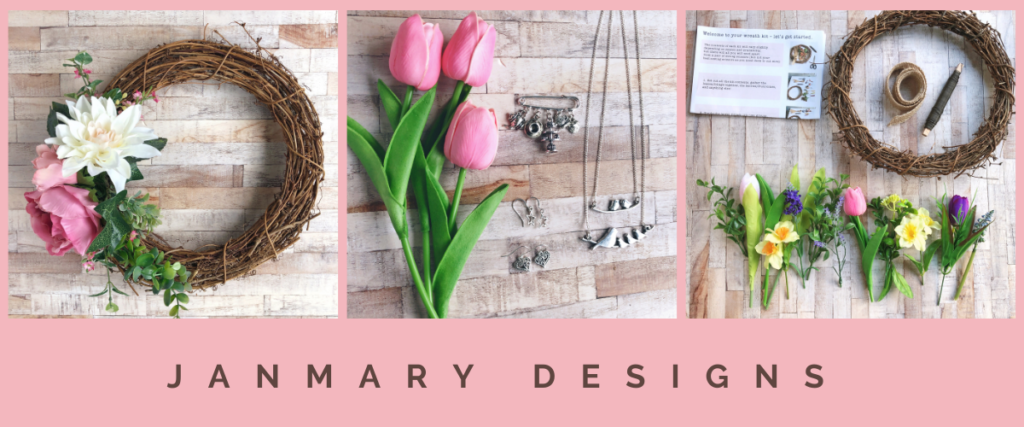 jewellery, home decor, and craft kits
I'm Janine Mayes, the creator behind Janmary.com. I have always had a passion for making and teaching crafts to others. Based in Lisburn, N Ireland I create and sell jewellery, wreaths, and other decorative items for your home.
I also facilitate workshops for wreath making, smartphone photography for groups and individuals, in-person and via zoom
AFFORDABLE GIFTS AND  JEWELLERY
SEASONAL WREATHS, AUTUMN PUMPKINS AND MORE
EVERYTHING YOU NEED TO CREATE BEAUTIFUL PRODUCTS IN YOUR OWN HOME
My daughter loves the little heart earrings I bought from you for part of her Christmas present!
Ordered lovely crochet pumpkins they are absolutely gorgeous. Once I ordered all communication and delivery/ pick up was straightforward. Thanks
I purchased 3 Autumnal crocheted pumpkins from Janine over the weekend. There was an option to post out but as I was passing I was able to collect from her door. Excellent communication back and forth and was very quick and responsive. The quality of my 3 pieces was super, I love my 3 decorative pieces. Will definitely purchase again from Janine.