Yesterday we had the most loveliest of days in Dublin. I am thankful for the lovely local instagram friends I have connected with through the squares and stories of Instagram.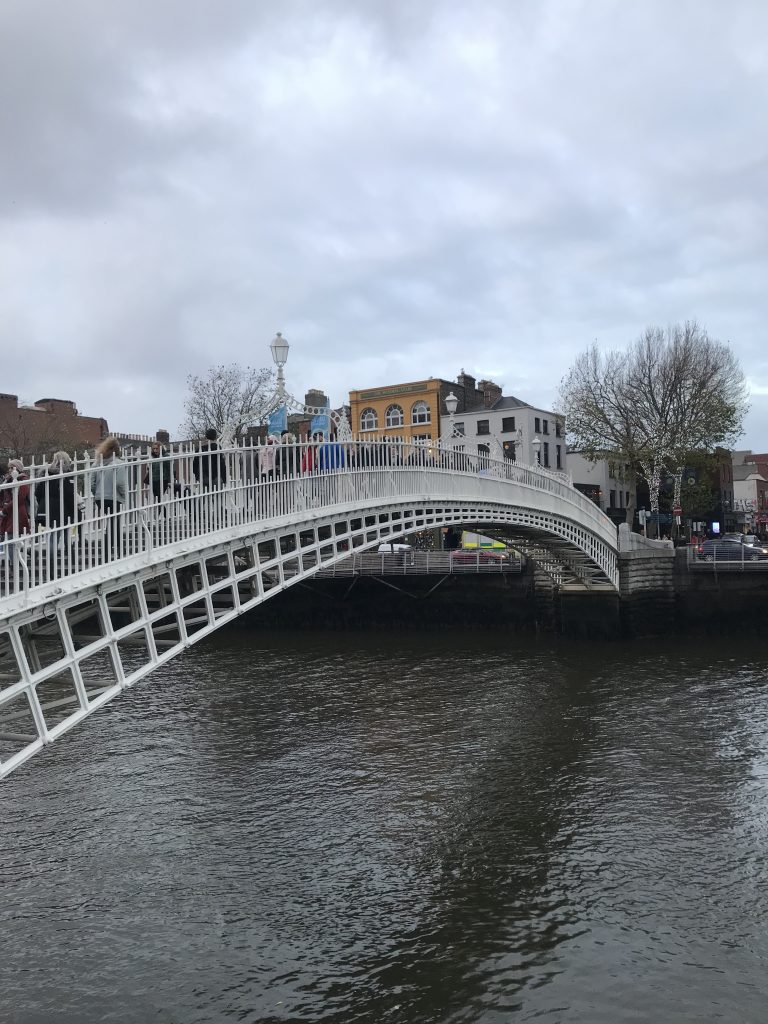 We have already shared coffee, cake, walks around lakes, more cake, birthdays and more …. and a few of us decided to have a wee get together for Christmas, but instead of going out for dinner, we would take a day to ourselves in Dublin.
The invite was open to all, and in the end 7 of us headed southwards on the Goldline bus to Dublin.  A few who had never been to Dublin before, and one brave soul who hadn't actually met any of us in person yet, although it turns out she went to primary school with fellow traveller Gillian Robb! (Typical northern ireland small world!)
Booking online in advance, the return fair on the coach was £17.50, and as it offered pickups at Sprucefield and Banbridge it was handy for all of us.
We had a few definites  we wanted to fit in to our day, and the first stop was Penny's. An hour later we regrouped, purchases made.  This was actually the only serious shopping of the day ….. lots more browsing and window shopping though!
We headed south over O'Connell Street Bridge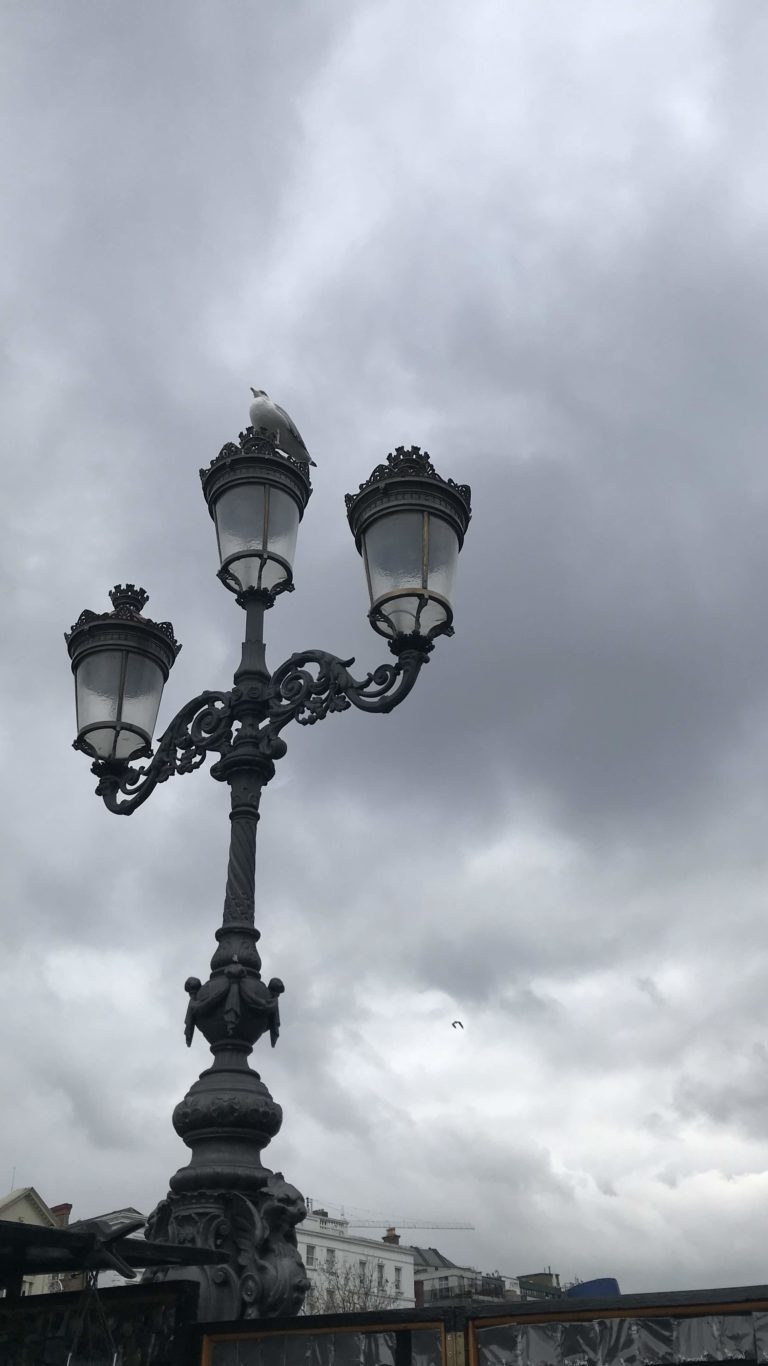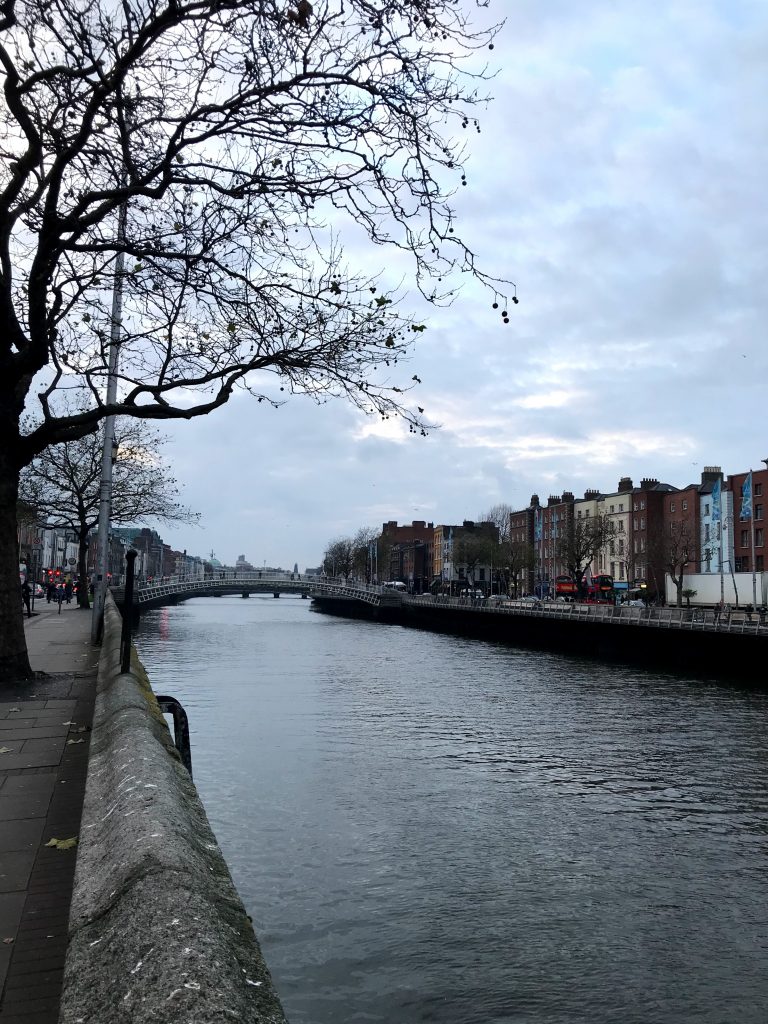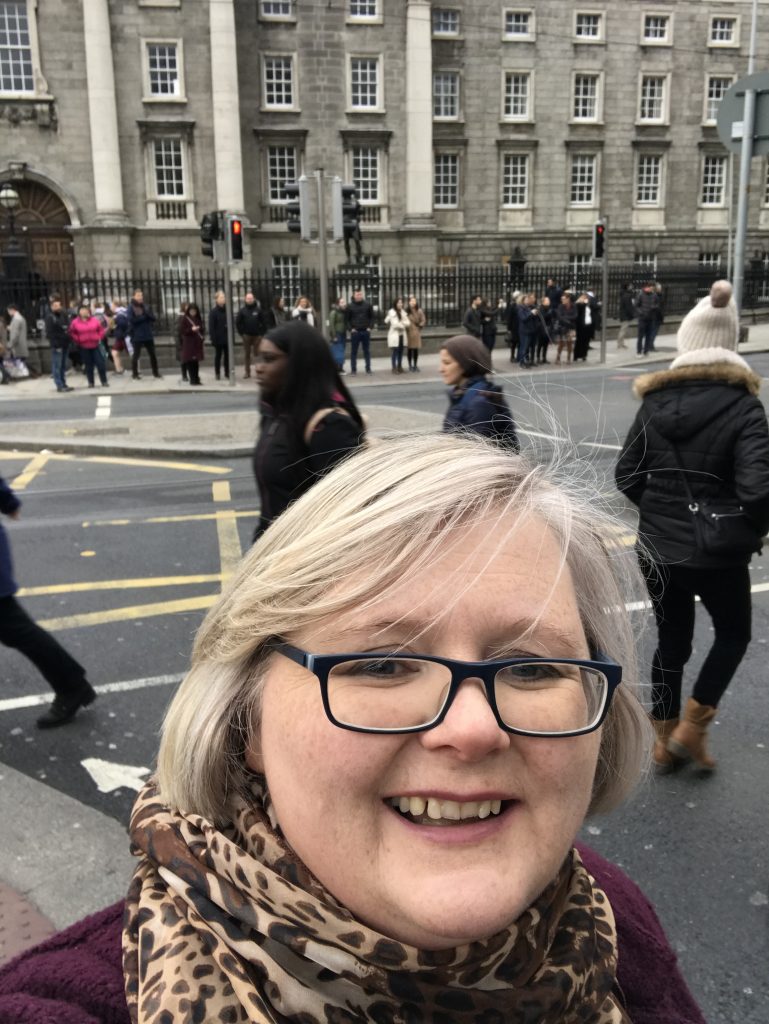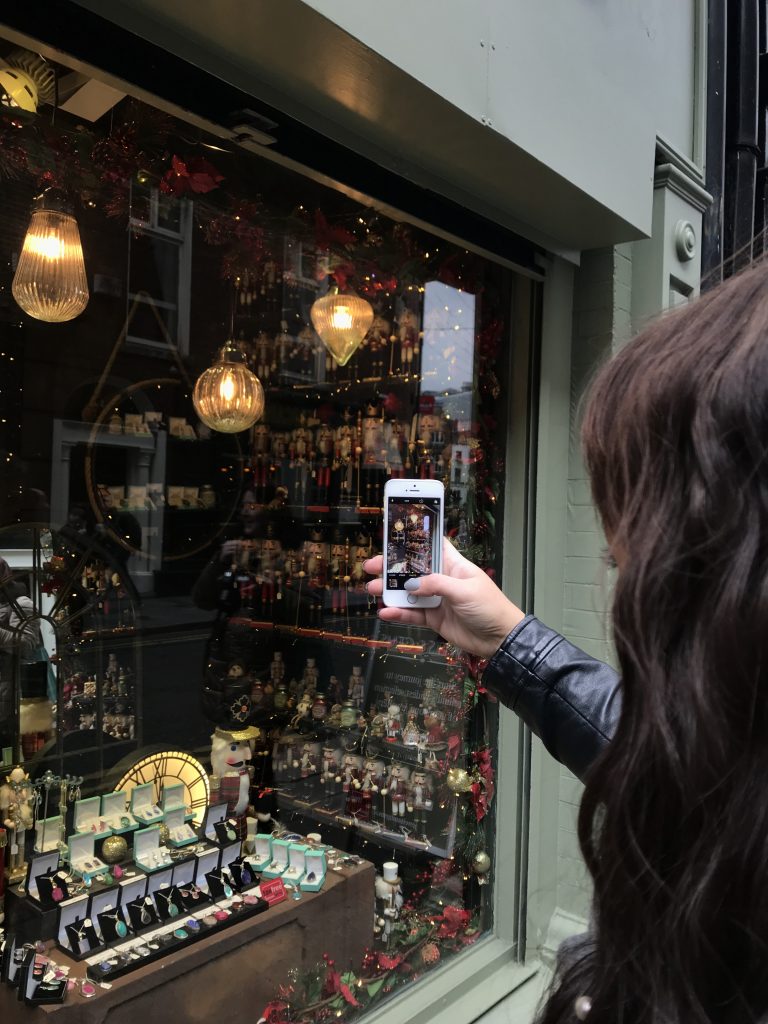 The next stop was Laduree …… and it was a real treat!
The setting was perfect. There were sandwiches, madelines, our choice of dessert and 2 macaroons each.  I chose raspberry and Marie Antoinette flavour (delicious and the most amazing colour too!)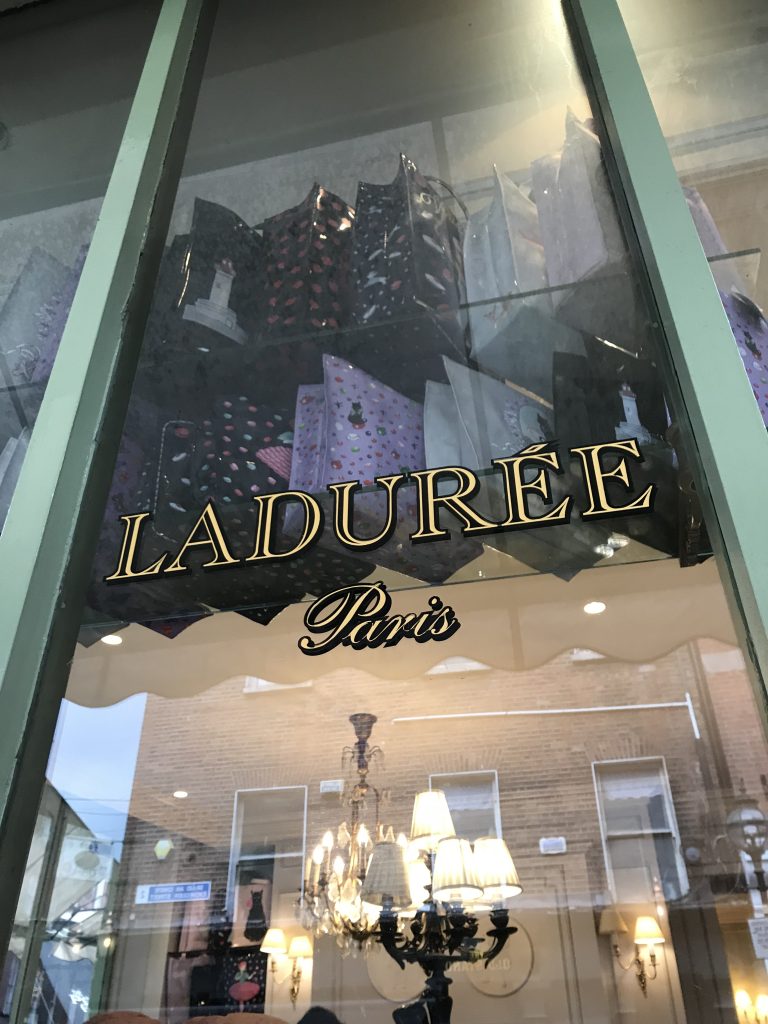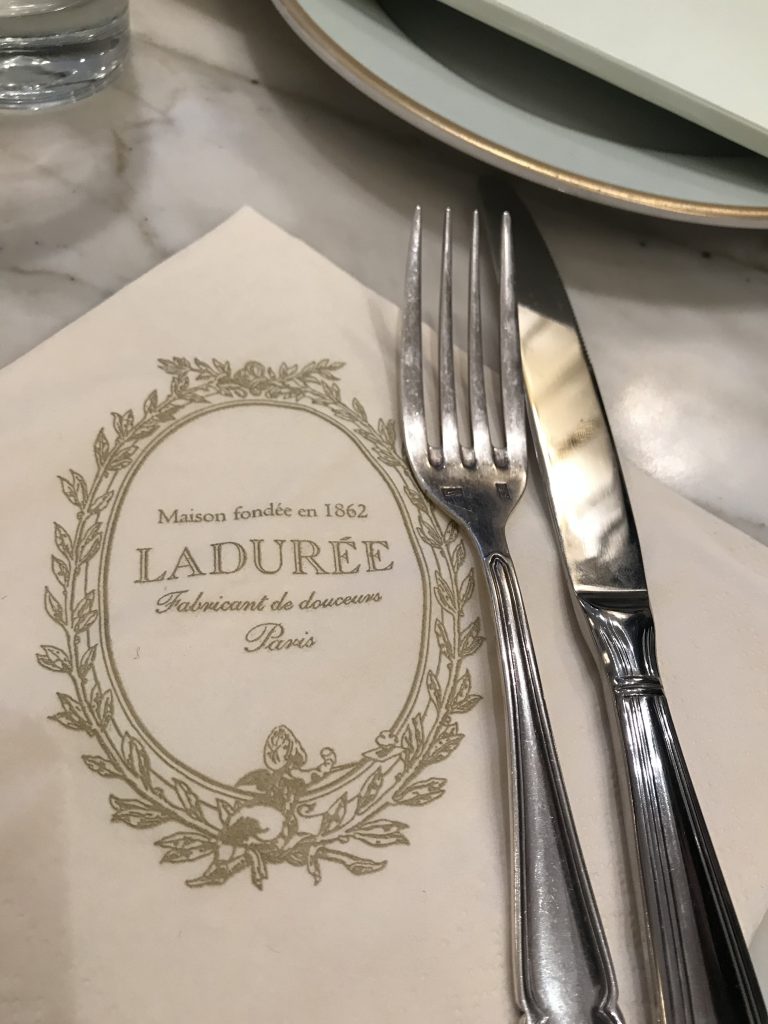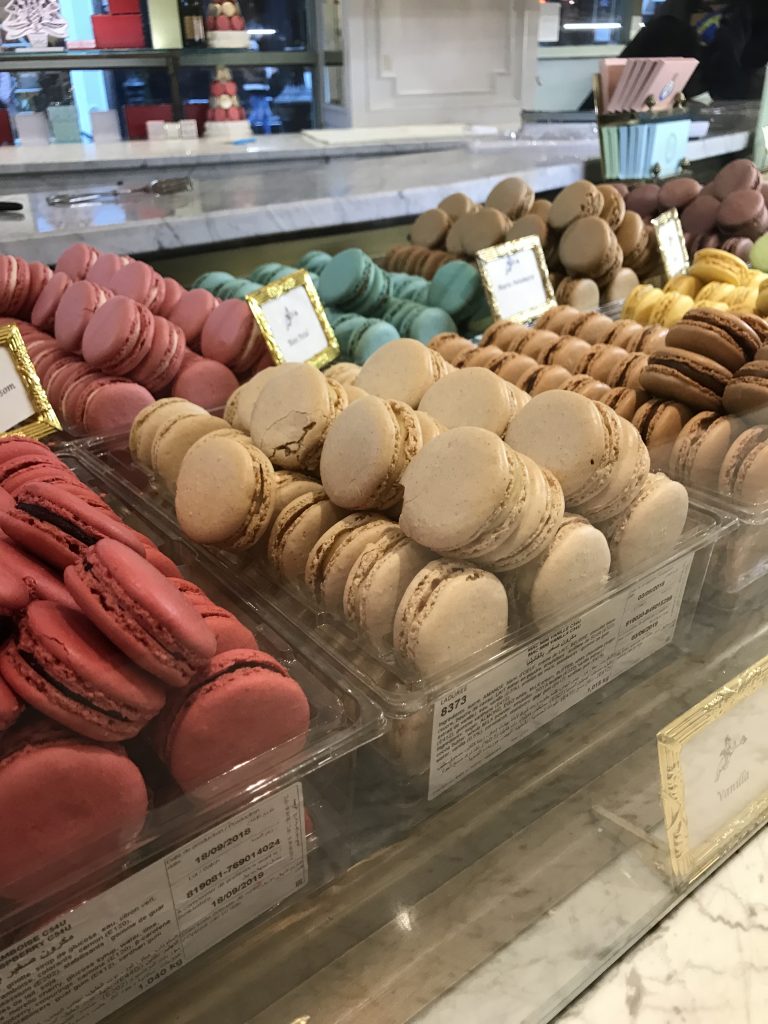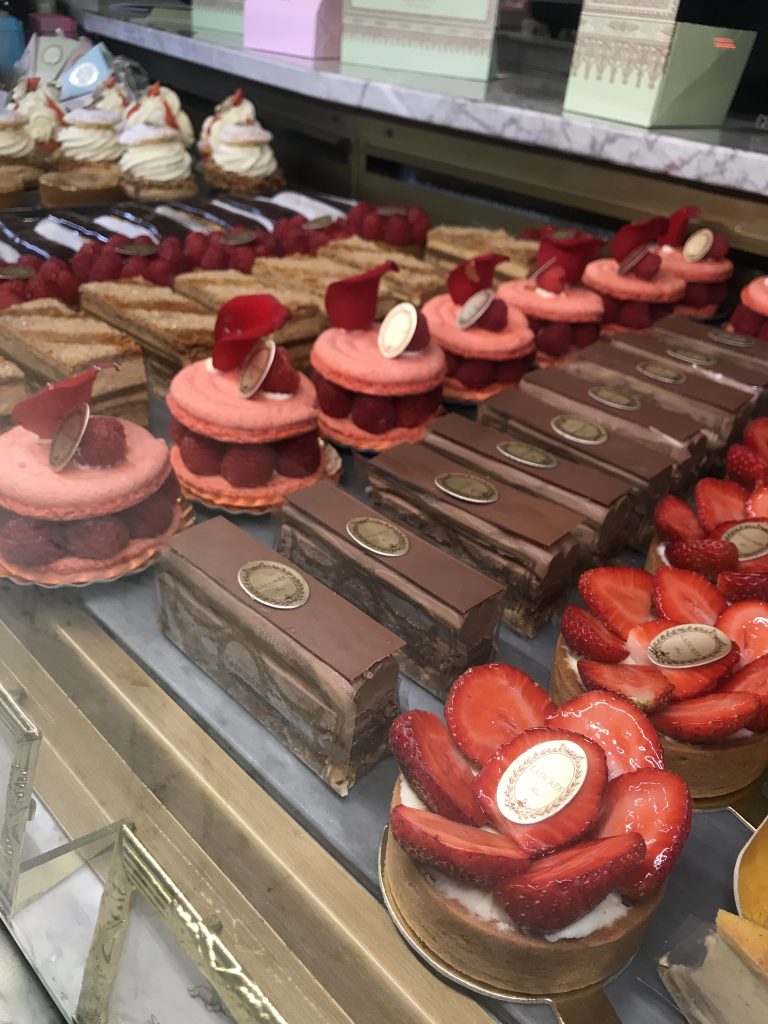 There was tea (many pages to choose from!), coffees and the most delicious hot chocolate (my choice)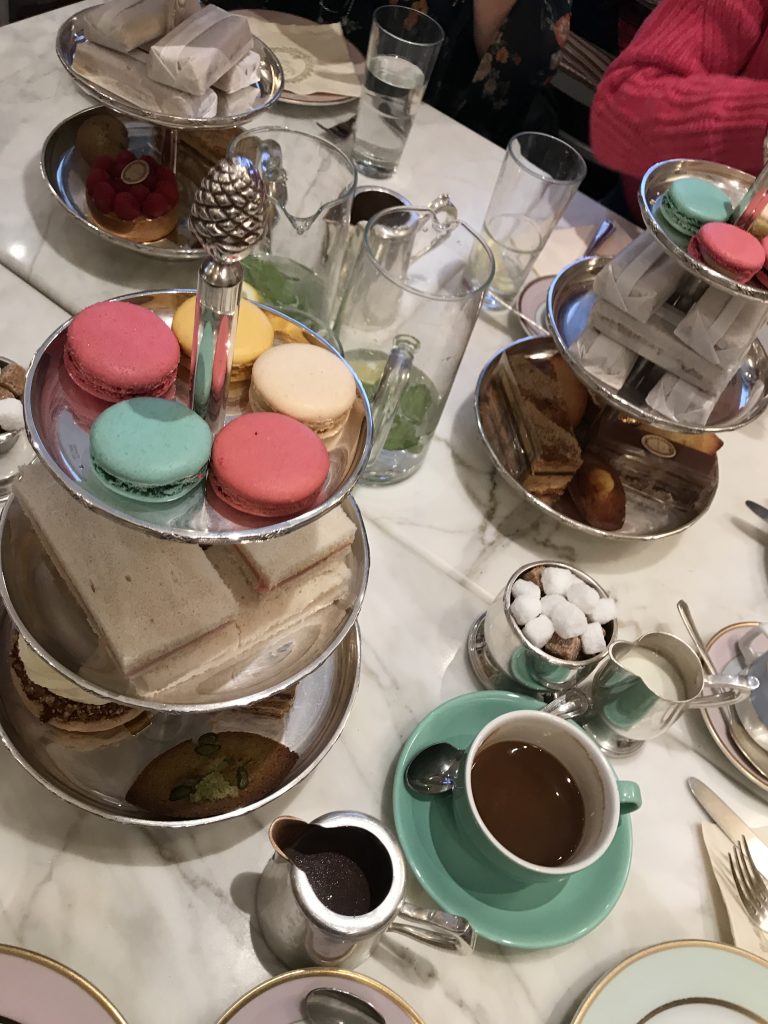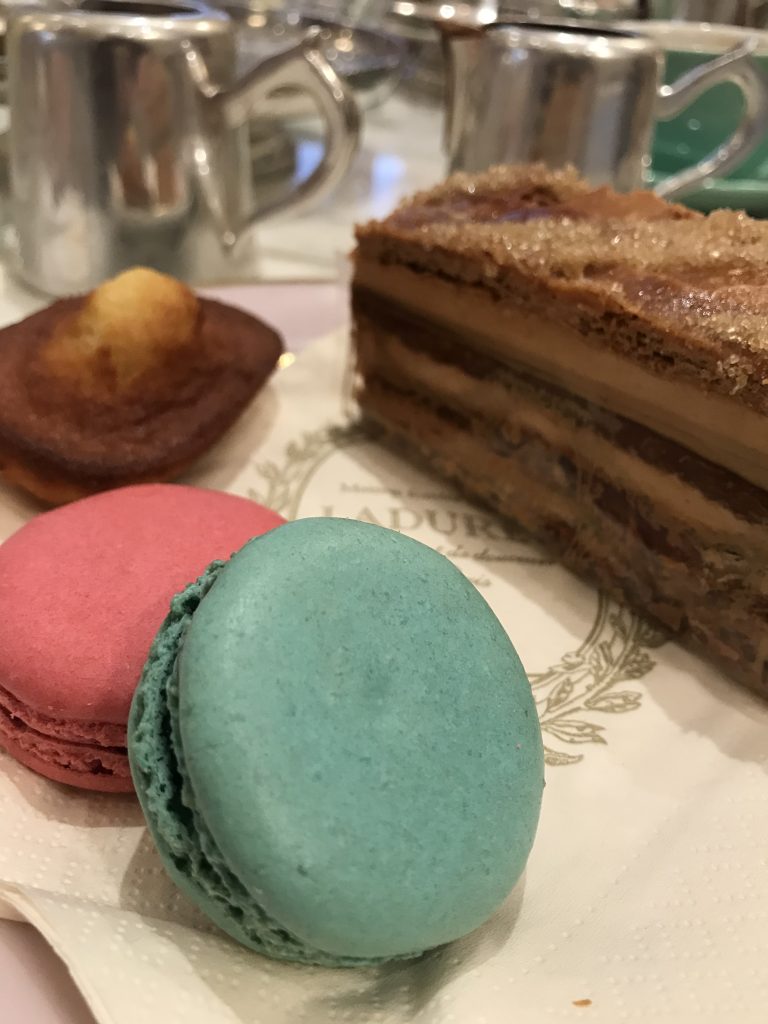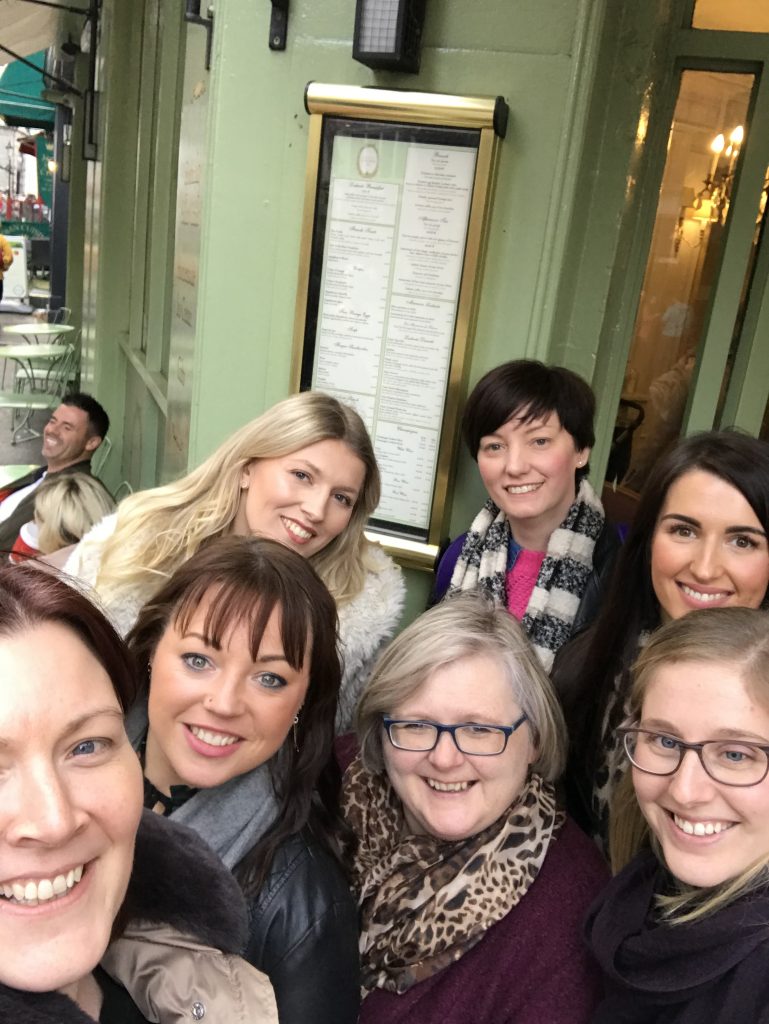 A definite highlight of our day in Dublin.
After Laduree we went just down the street to the Powers Court Town House which was beautifully decorated for Christmas. Many more photo opportunities!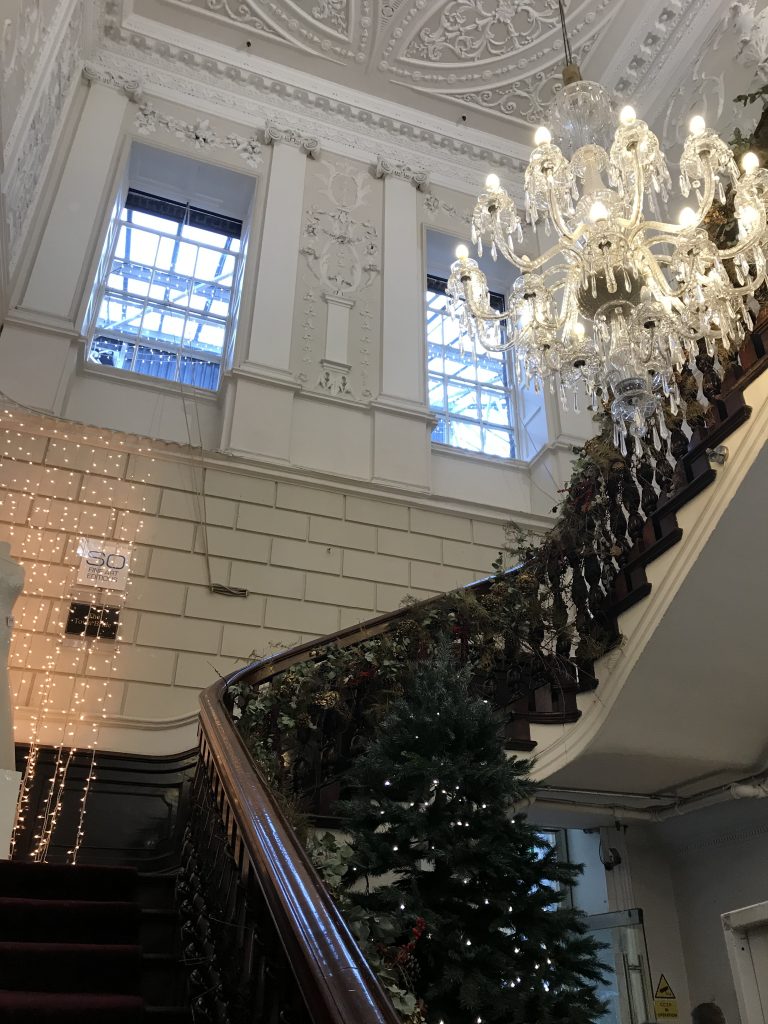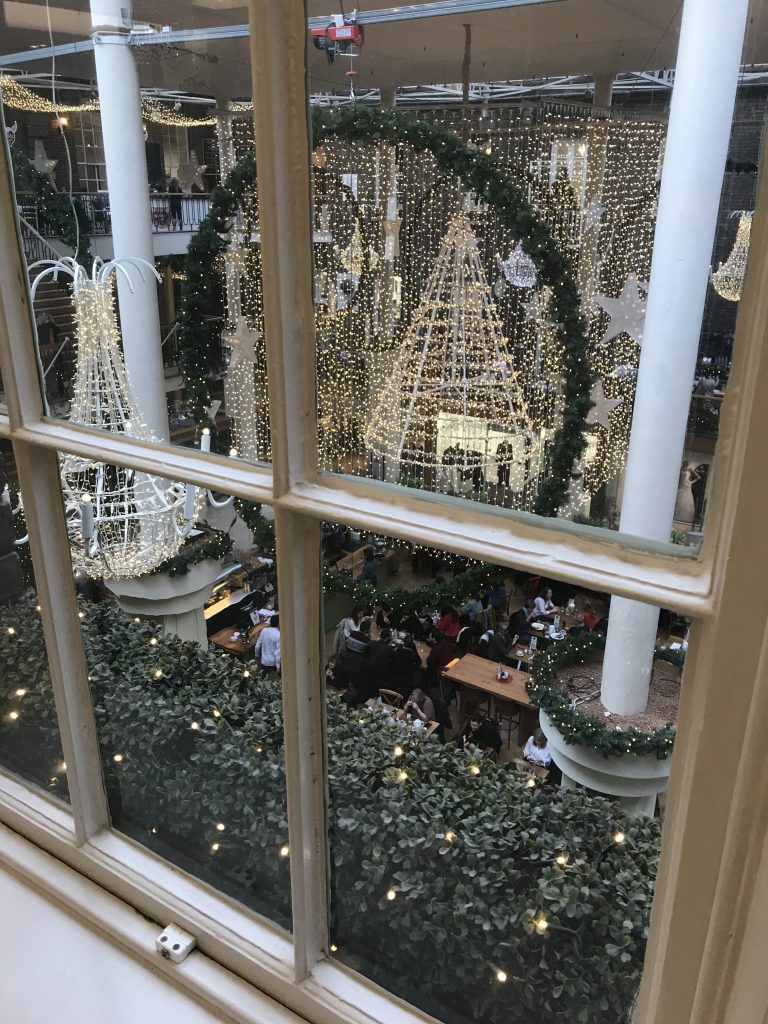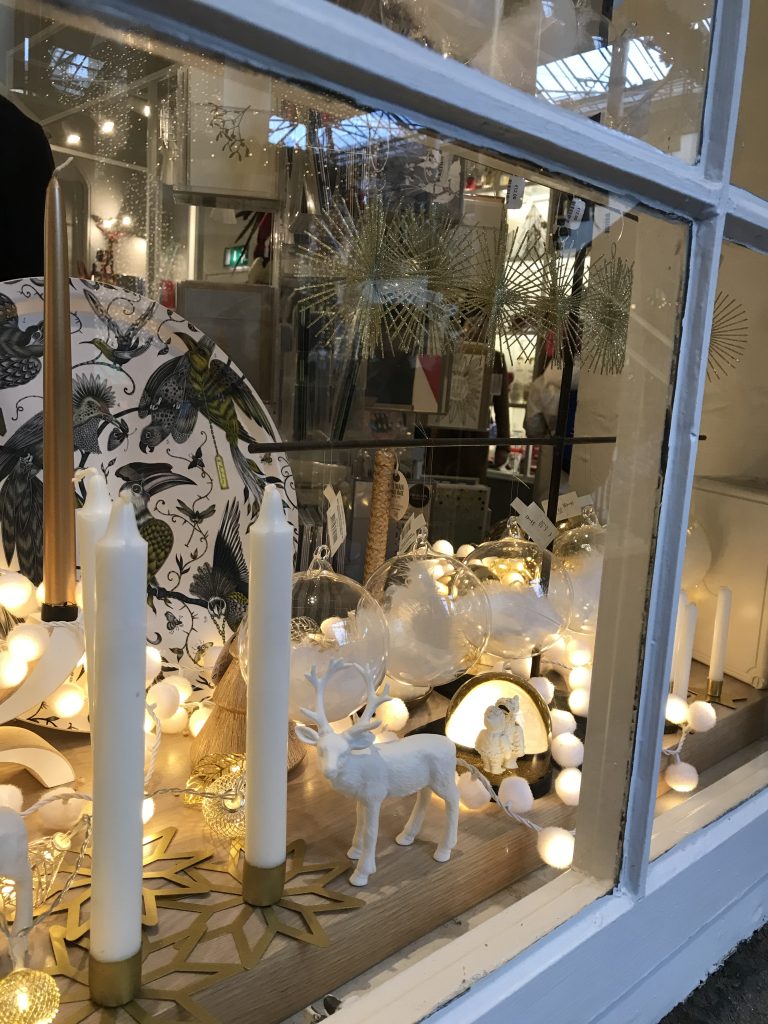 We headed up Grafton Street to St Stephens Green – a lovely spot away from the crowds ….. but not from the pigeons or huge seagulls! We were in the flight path of a few!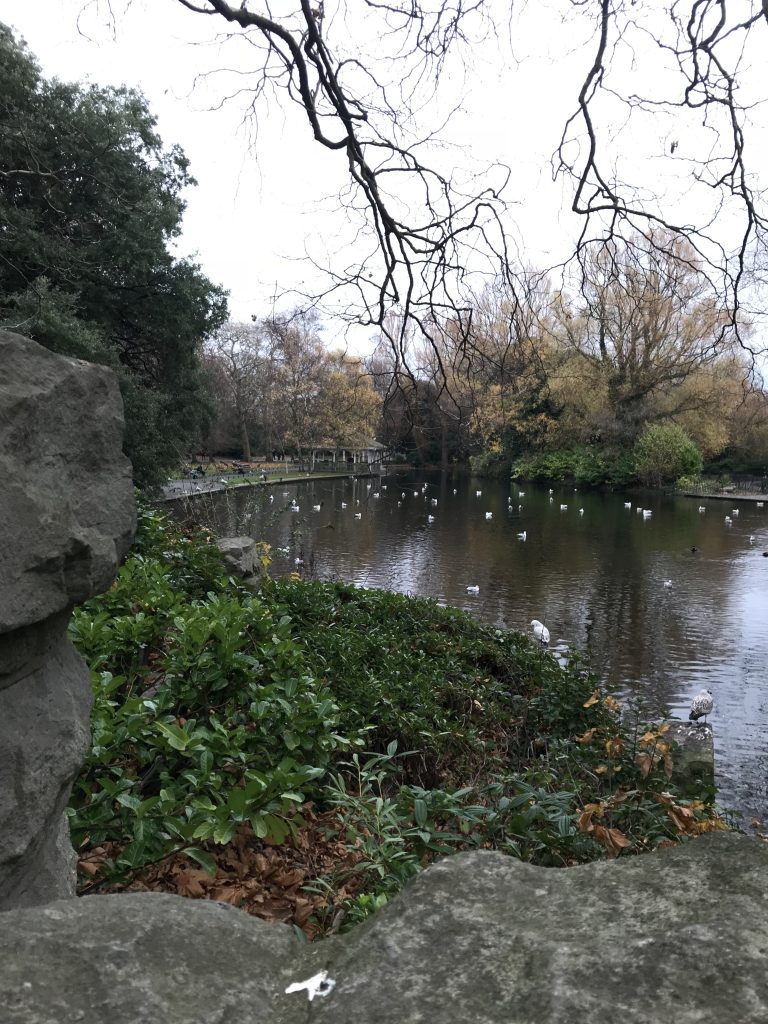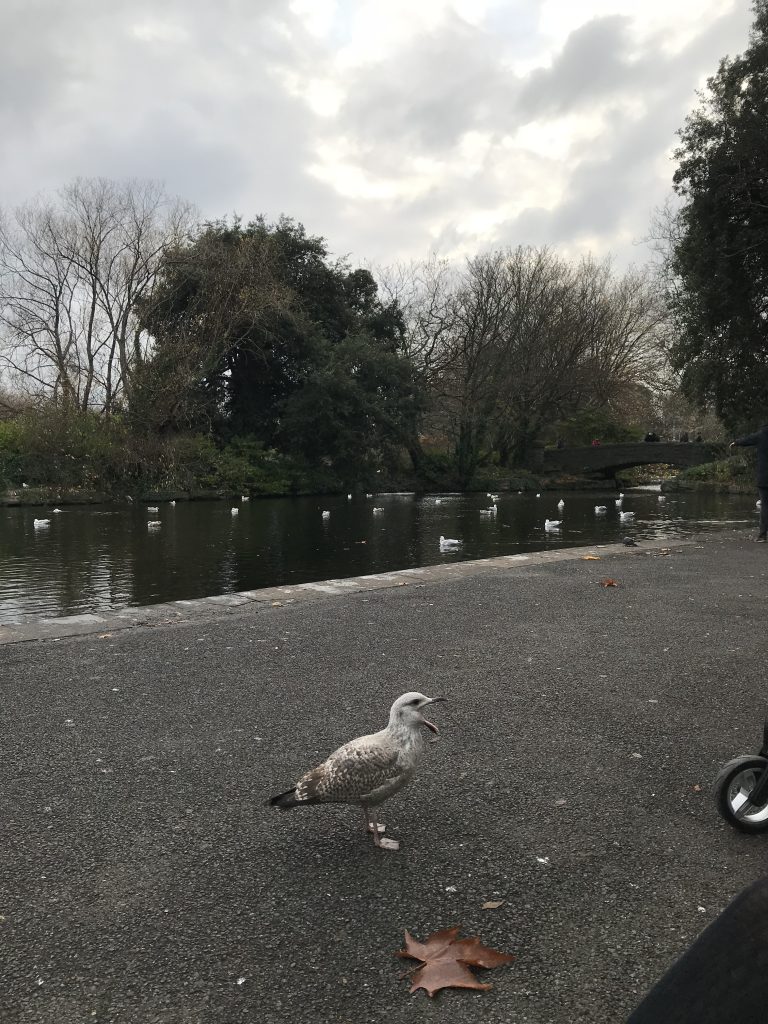 We had found on Instagram a street with suspended colourful umbrellas which was just off Grafton Street – perfect for photos.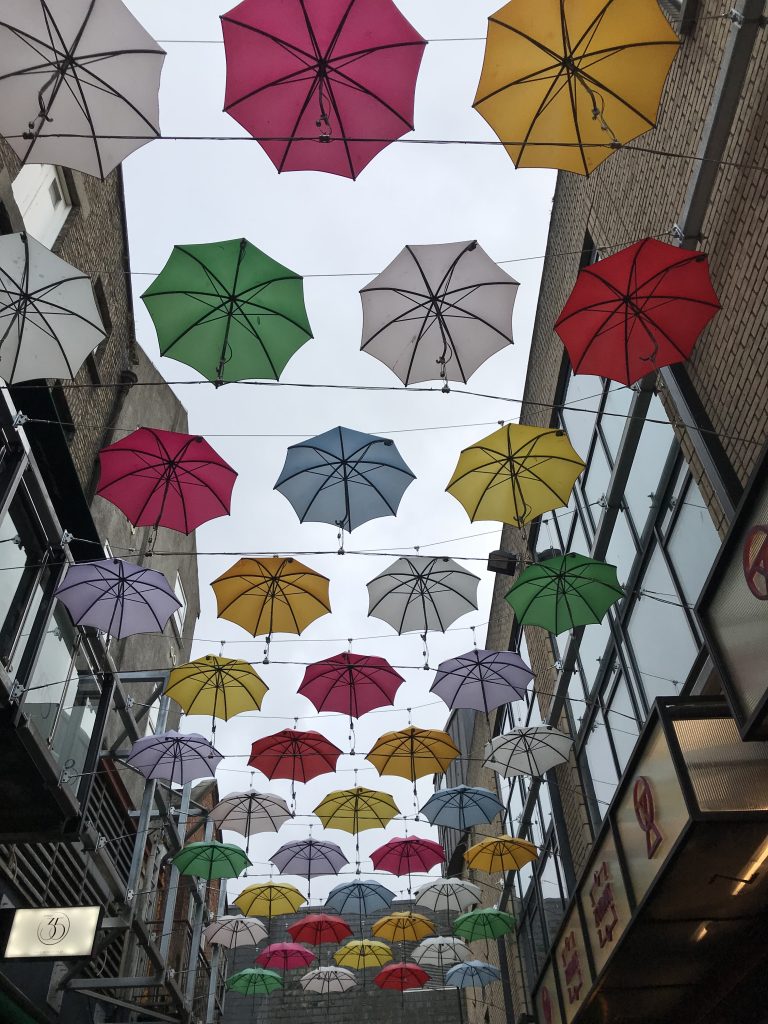 A bride and groom and photographer arrived just shortly after us, so we quickly tried to get a group selfie – we just about managed to get all of us in the pic – just not the brollies as well.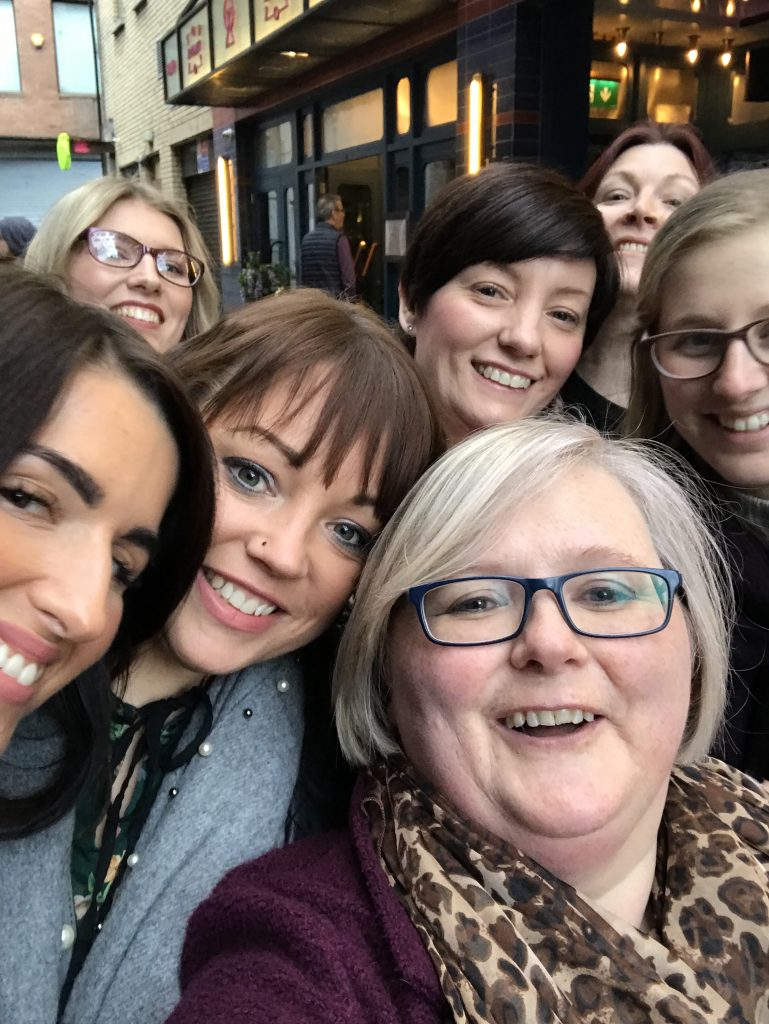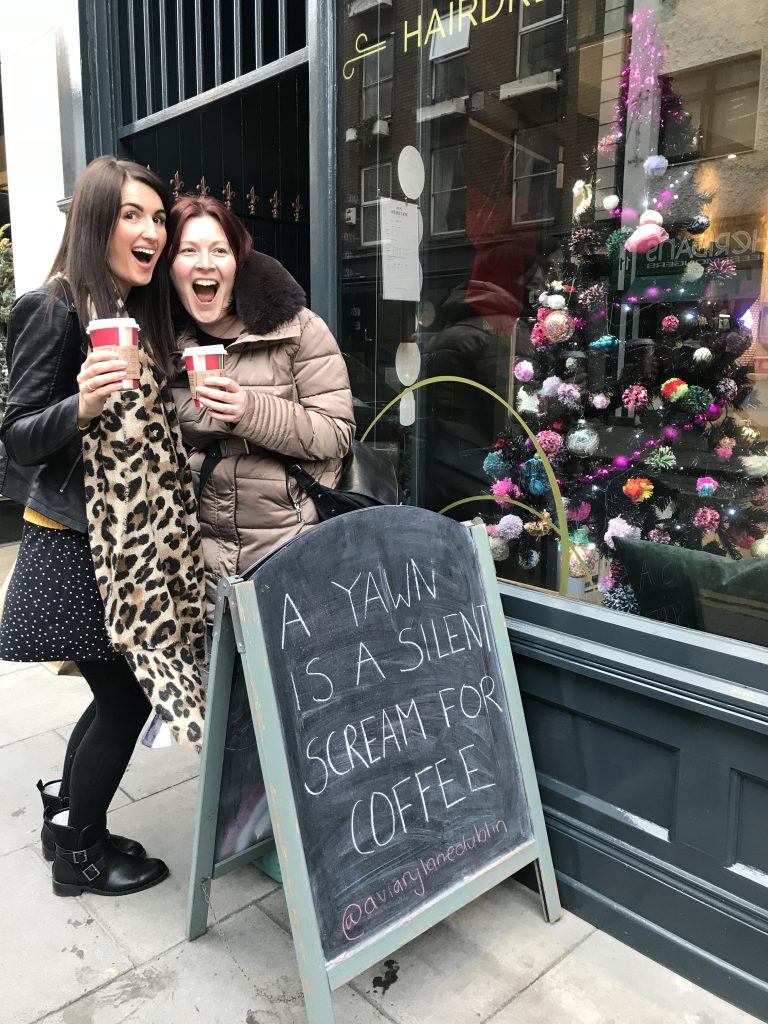 Next stop was Trinity …. another beautiful spot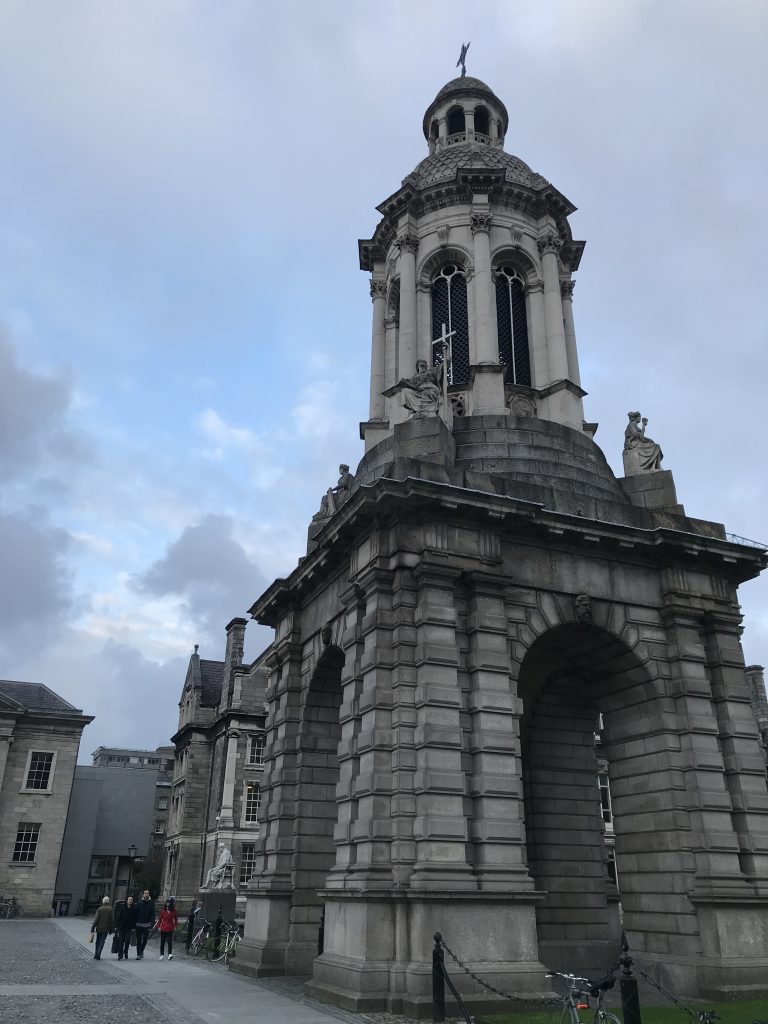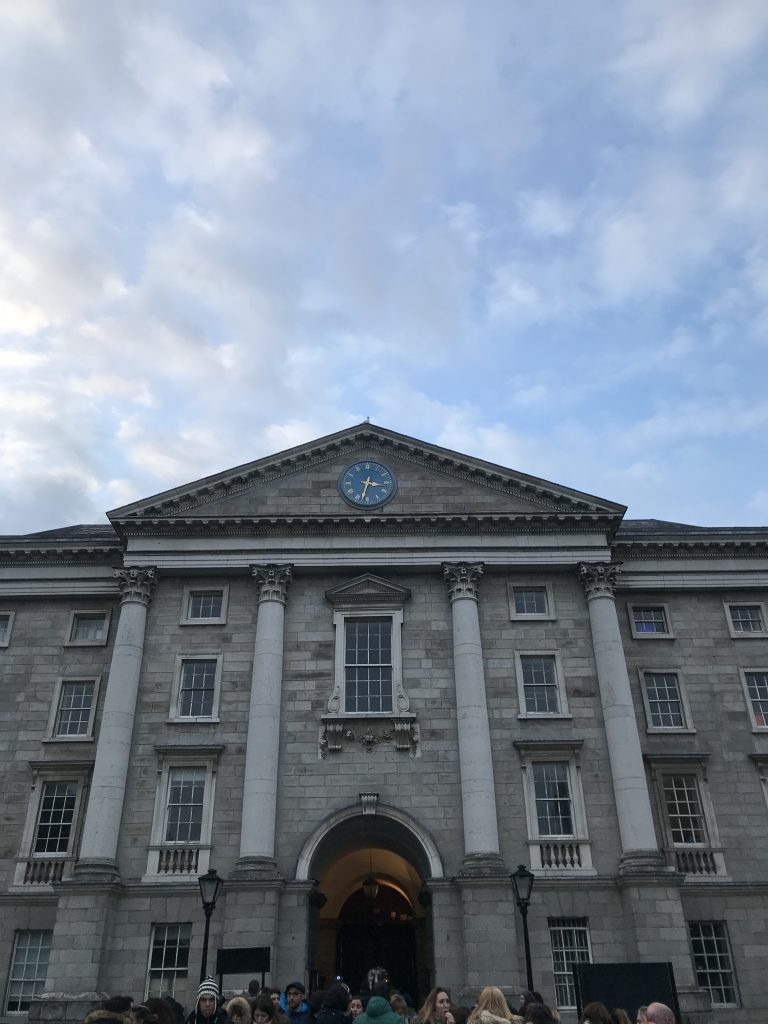 We headed back to towards the river, and along towards the Ha'Penny Bridge, then for a wander through Temple Bar.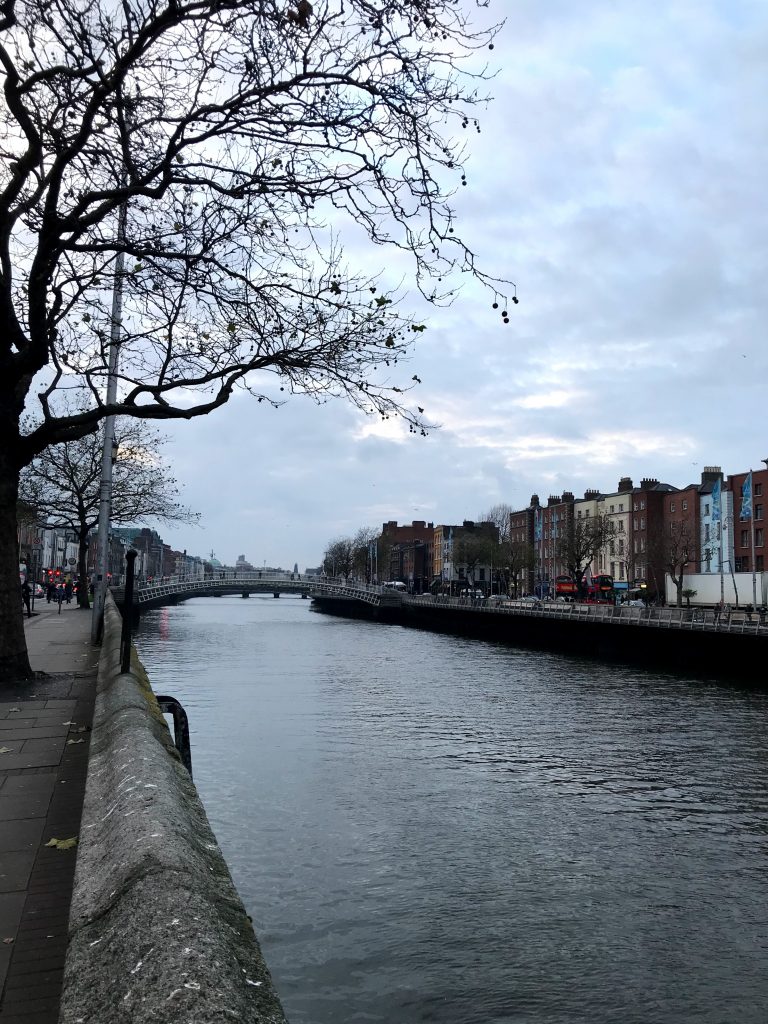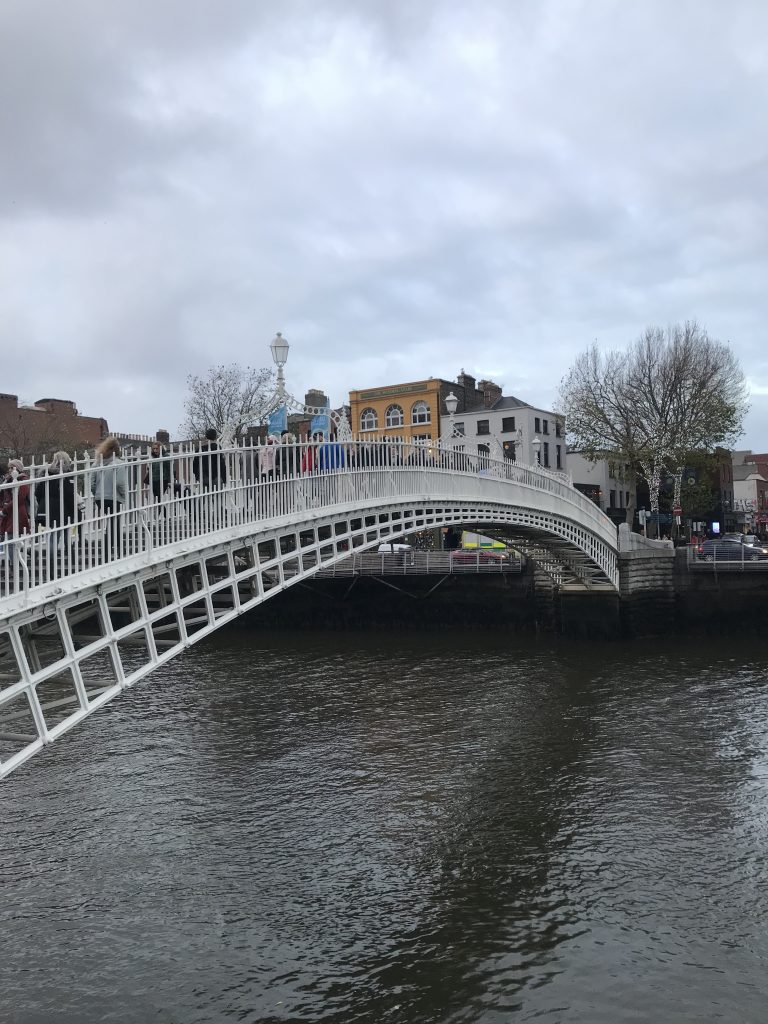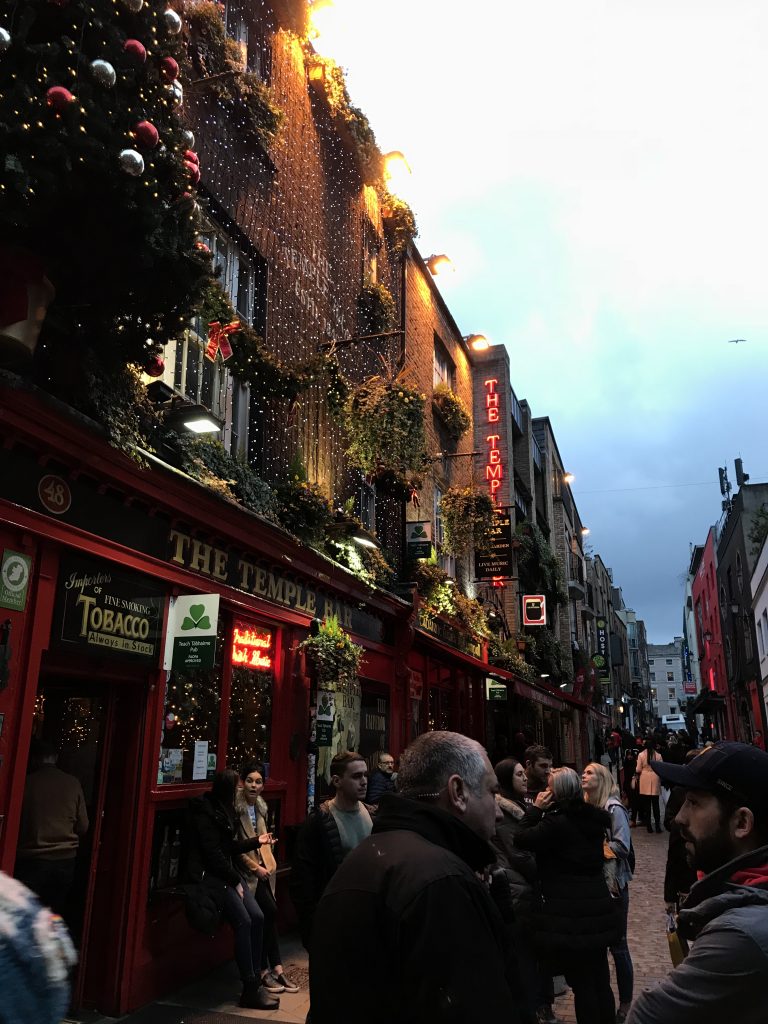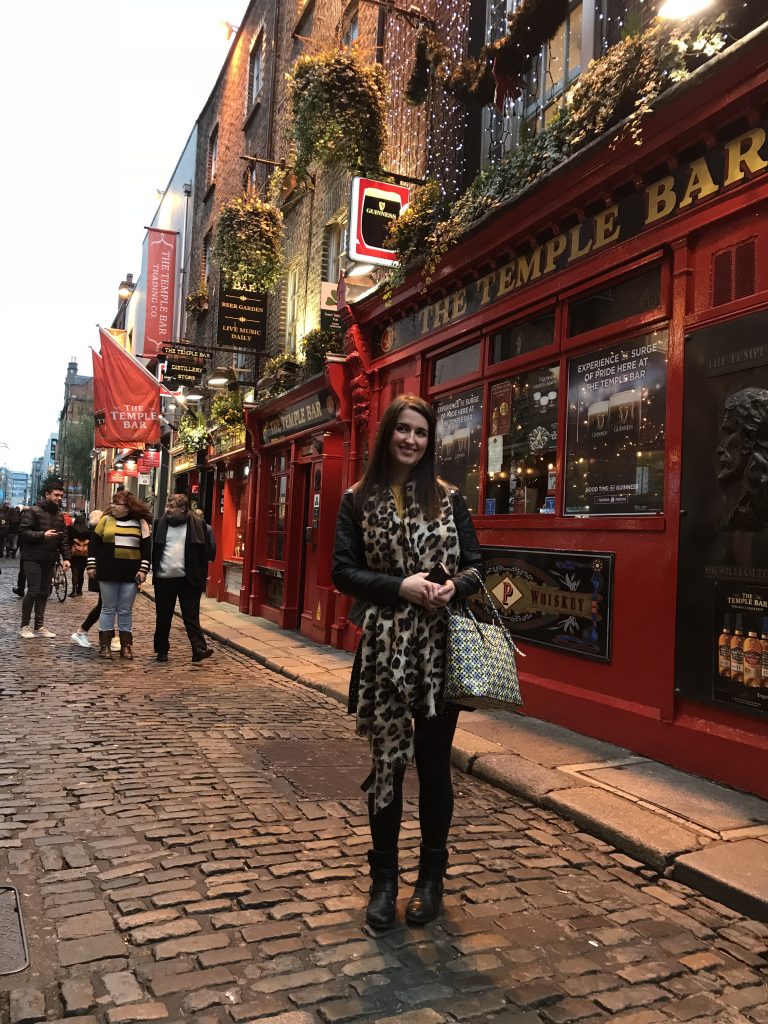 We stopped off for a short visit to the Irish Gallery of Photography but by this stage we were all starting to fade.
Avoca was calling, and we passed by Molly Malone (the tart with the cart!) on the way.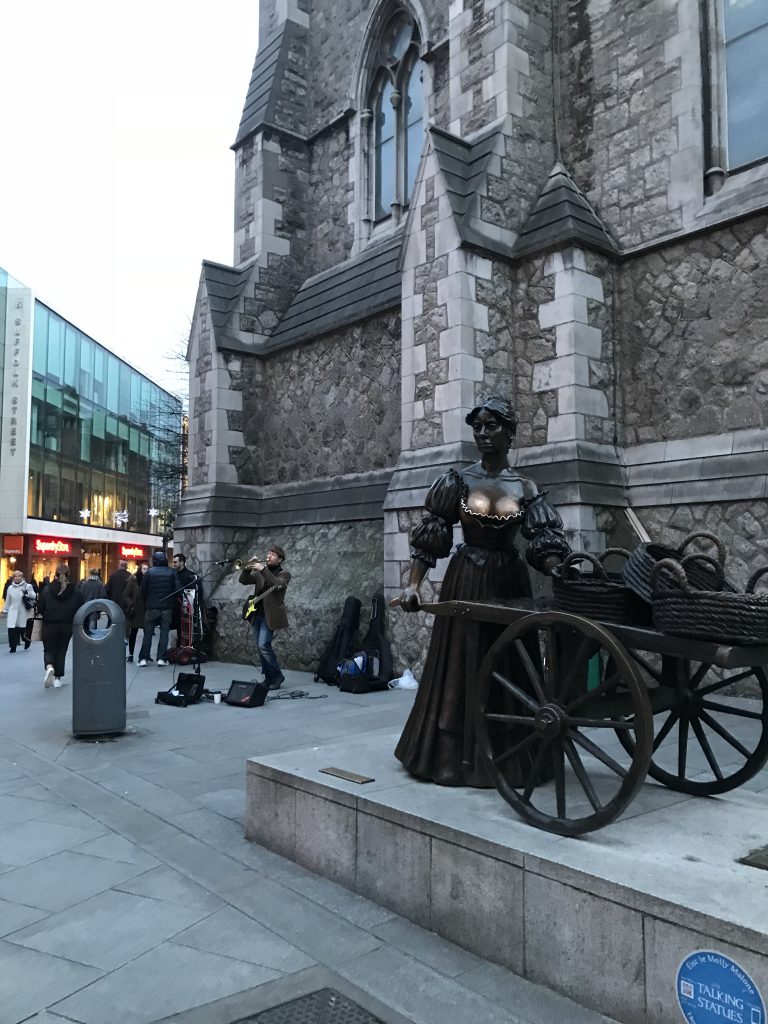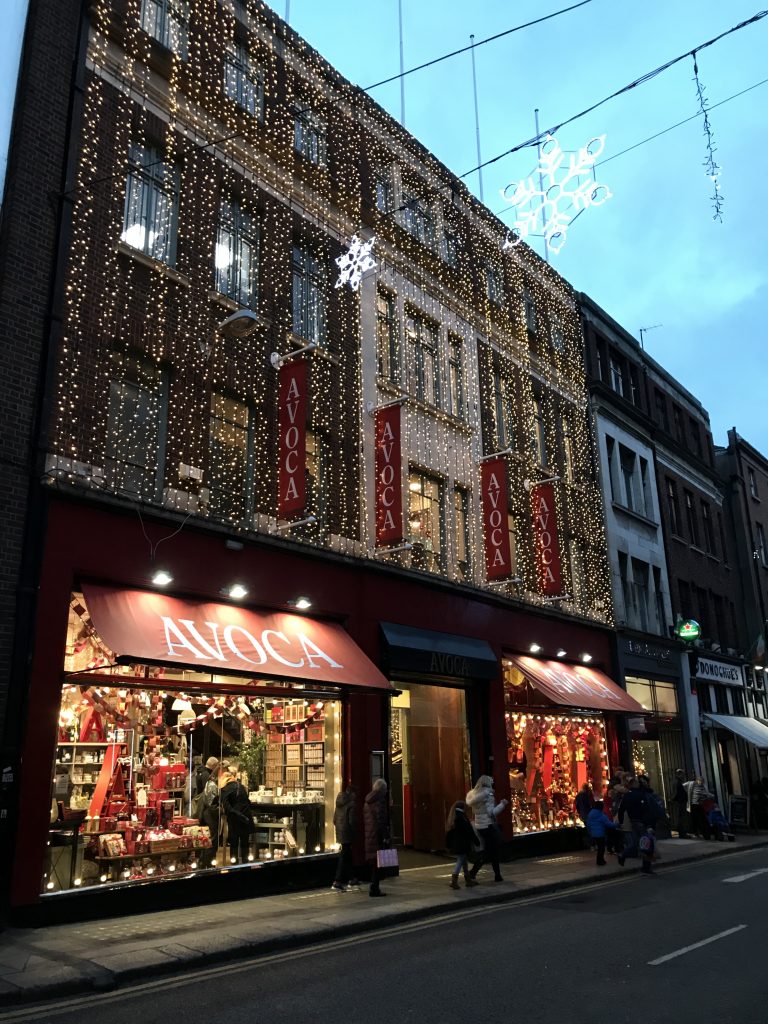 Avoca cafe served the most delicious food – it was worth the climb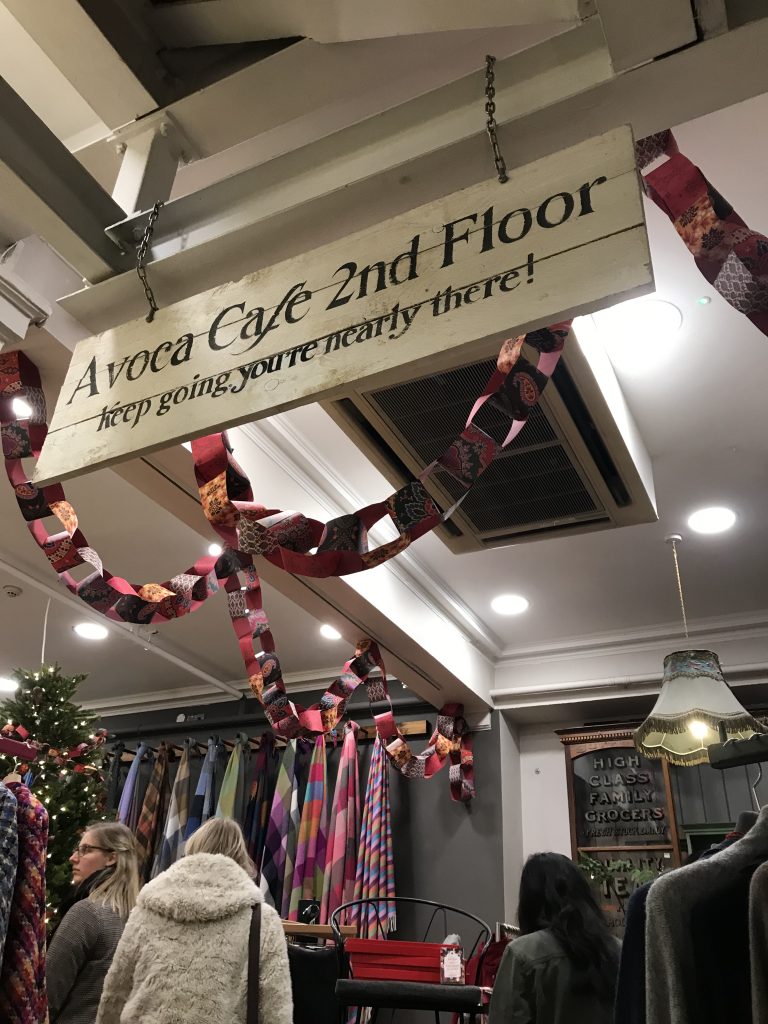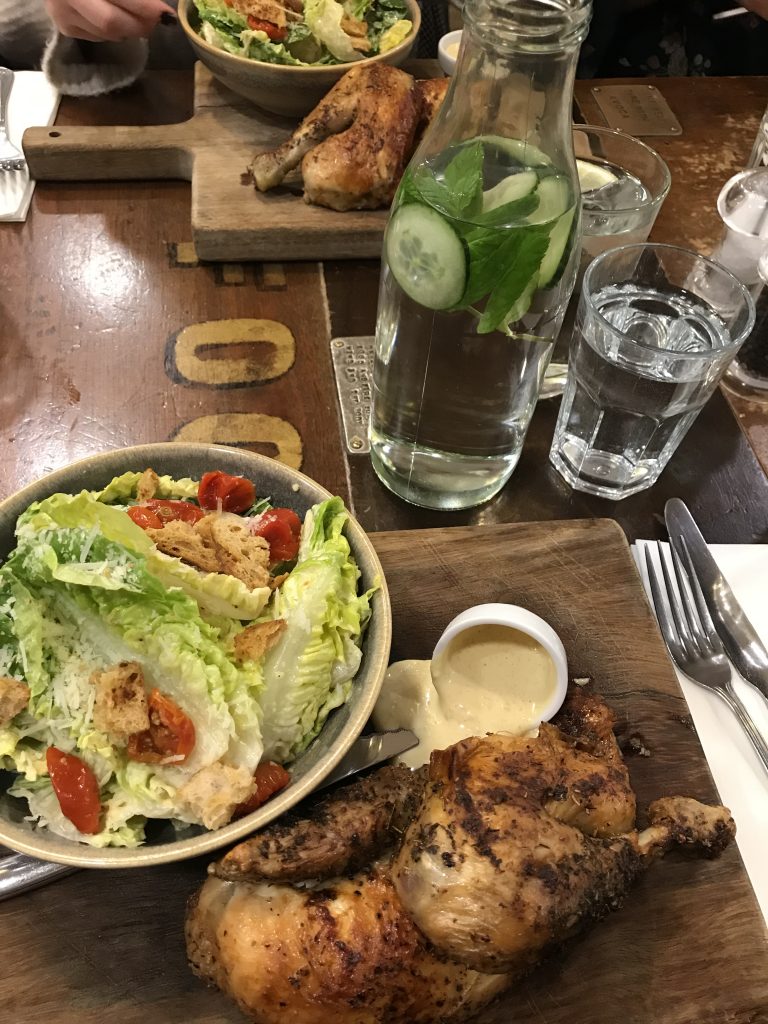 Loved this sign in Avoca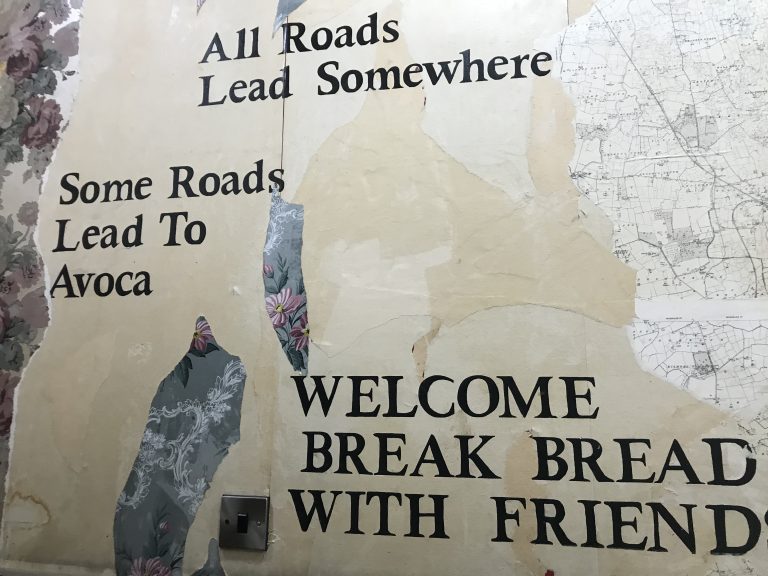 and this pretty little roof garden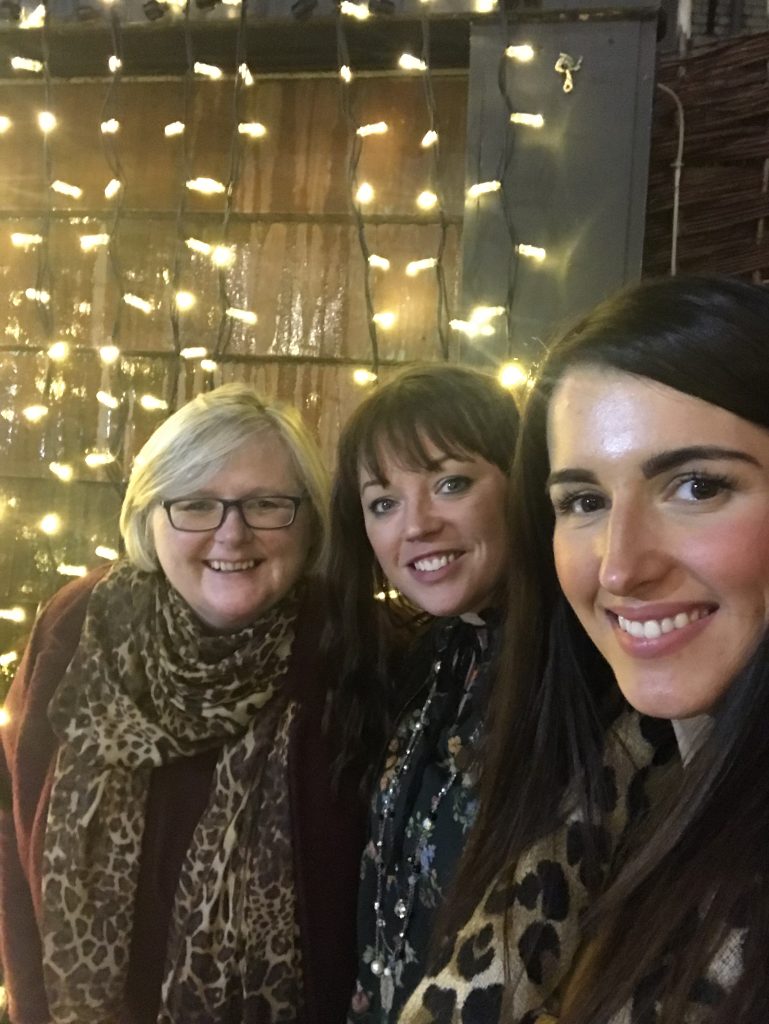 It was now dark, so another wander up Grafton Street enjoying the lights and atmosphere.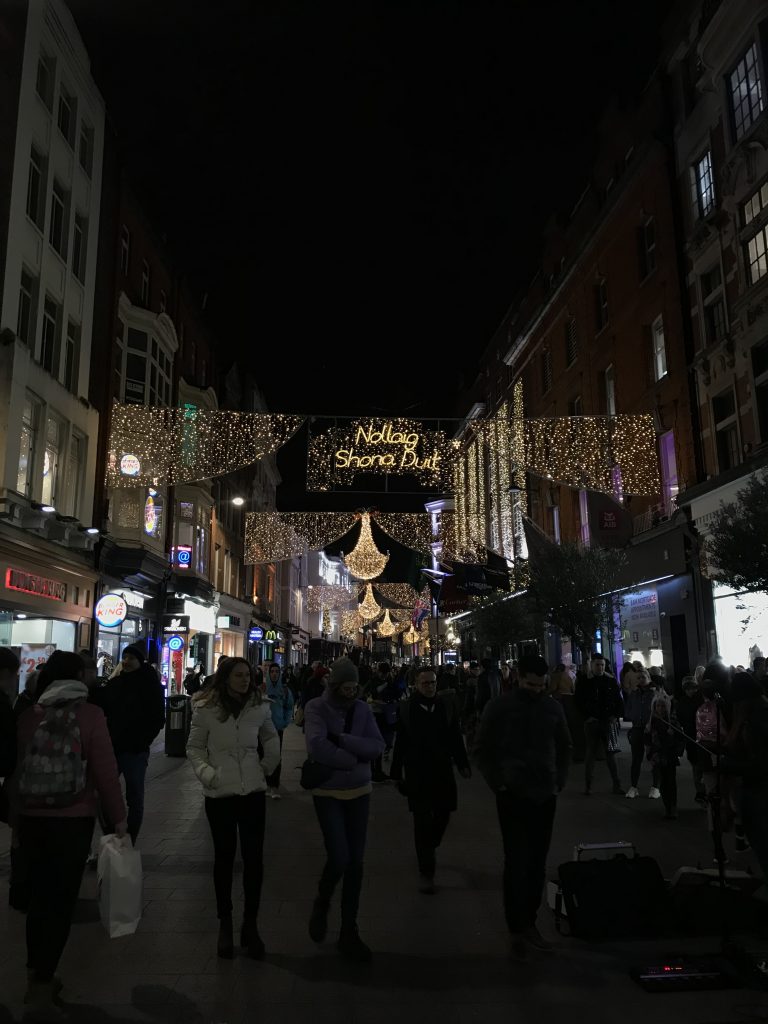 Loved this mistletoe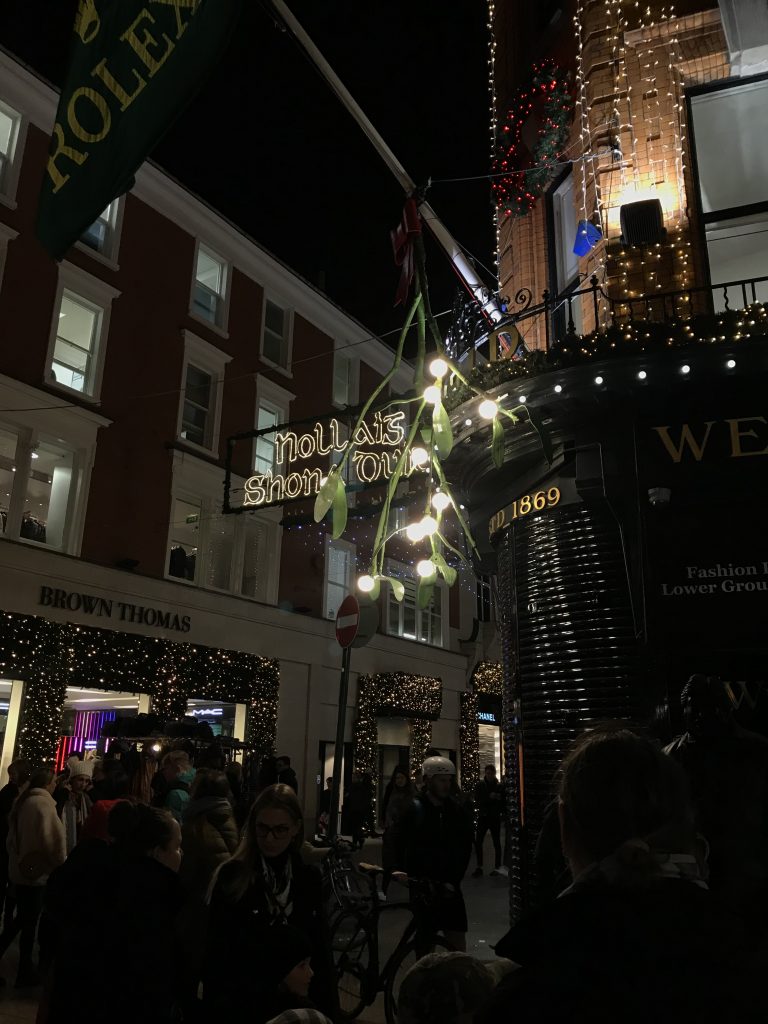 We finished off with a browse through Brown Thomas …. beautiful shop, especially loved their dramatic Christmas window displays.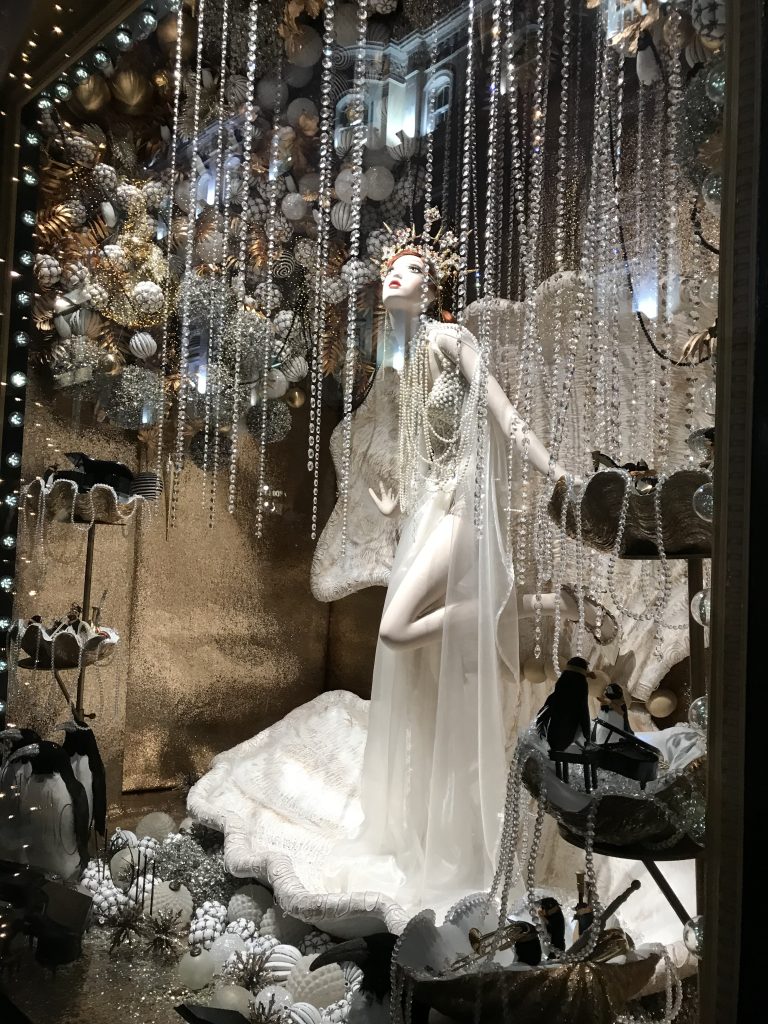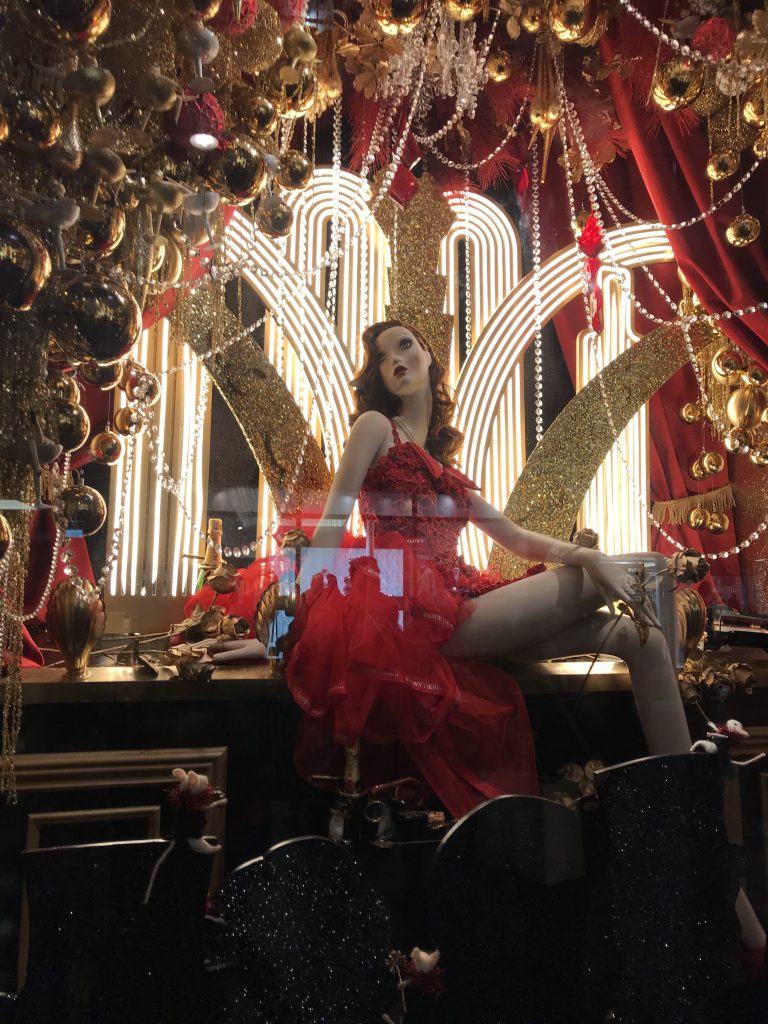 Gorgeous Christmas decorations (with gorgeous prices too!)
Thanks so much to Cathy (@threelittlefoxes_)
Cathryn (mybundleofboysandme)
Gillian (@GillianRobbPhotography)
Grace (@MrsGMcDowell)
Jillian (@Hennathome)
Gill (@gill.corbett)
for their company, chat, laughter and photo taking opportunities ….. where next?!