A couple of months ago I stumbled across an online business course called Indie Business 3.0. It was aimed particularily at small business owners in the creative craft sector.  I already knew of one of the tutors, and thought …..why not? The course started on the day of my surgery but I didn't let that put me off.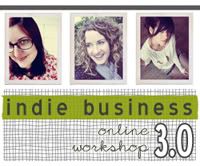 There was a mixture of practical creative sessions (making pretty folders), finding your style and passion, and nitty gritty of how-to including stock control, organising your email and connecting with your customers.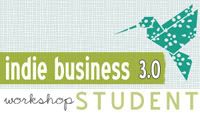 Every daily session also provided to ask the tutors questions, and their answers benefitted all of us.  The course was divided into 3 "terms" and there were on-line chats with the tutors and our classmates with the chance to discuss our queries, challenges and successes.  I loved the two out of 3 of these that I managed to join in on, despite the trans-Atlantic time difference.
There was also a discussion forum and it is here, thanks to some inspiring classmates, that the Indie Business 3.0 Launch Party was born.  As our course has just finished, we are having a party to celebrate. It kicks off tomorrow – there will be giveaways, new products, new stores and lots of discounts.
Tomorrow at Janmary Designs I will be opening a giveaway to win one of my unique hand-knitted cuff bracelets – this is it!
 and there will also be a celebratory discount off all items in my Etsy Store.  I'll also be linking up to everything else happening online, you won't want to miss it.
So be there, or be square (whatever that means!)