In the past 8 weeks our back garden has seen some changes. The old shed /playhouse has gone and the new shed / garden room has arrived! I will start at the end, with the final result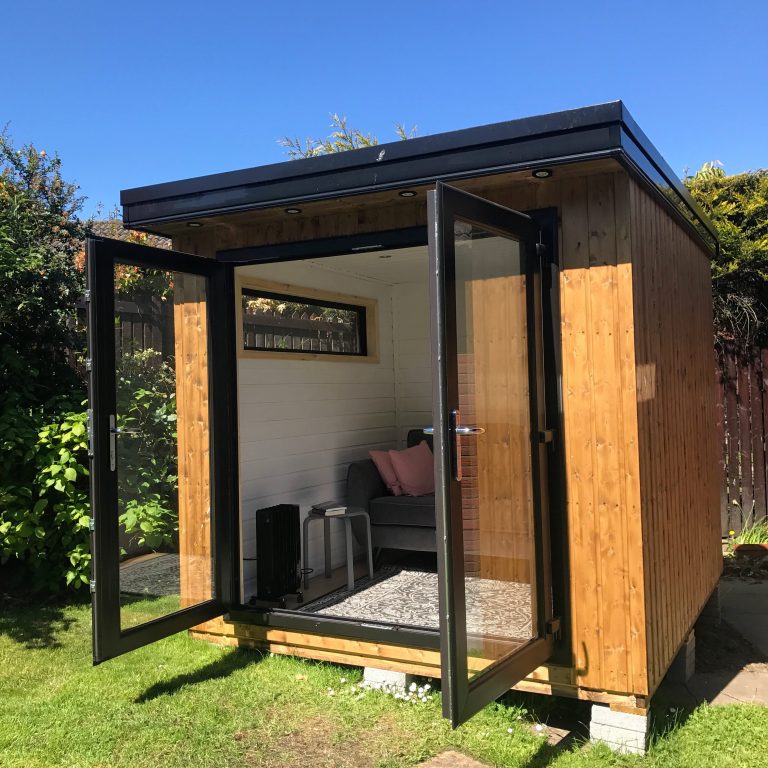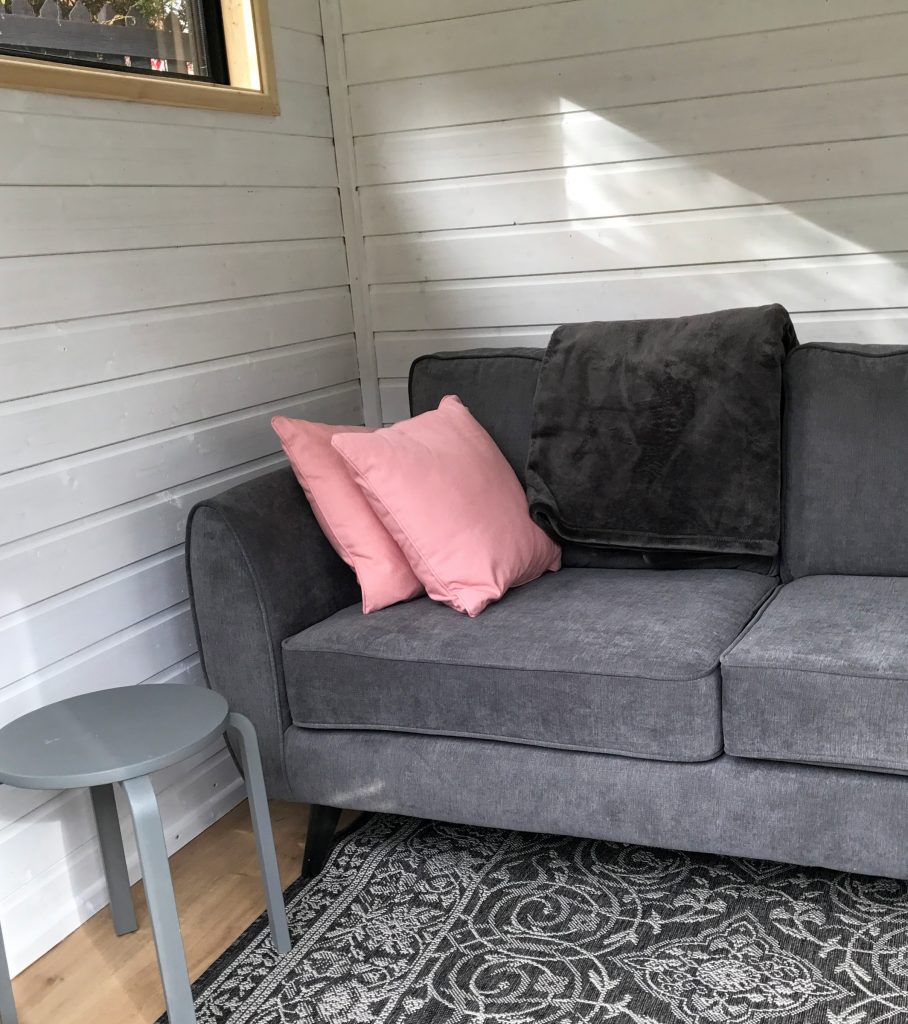 The story of our new shed begins 17 years ago when my parents bought a wee playhouse for our daughters.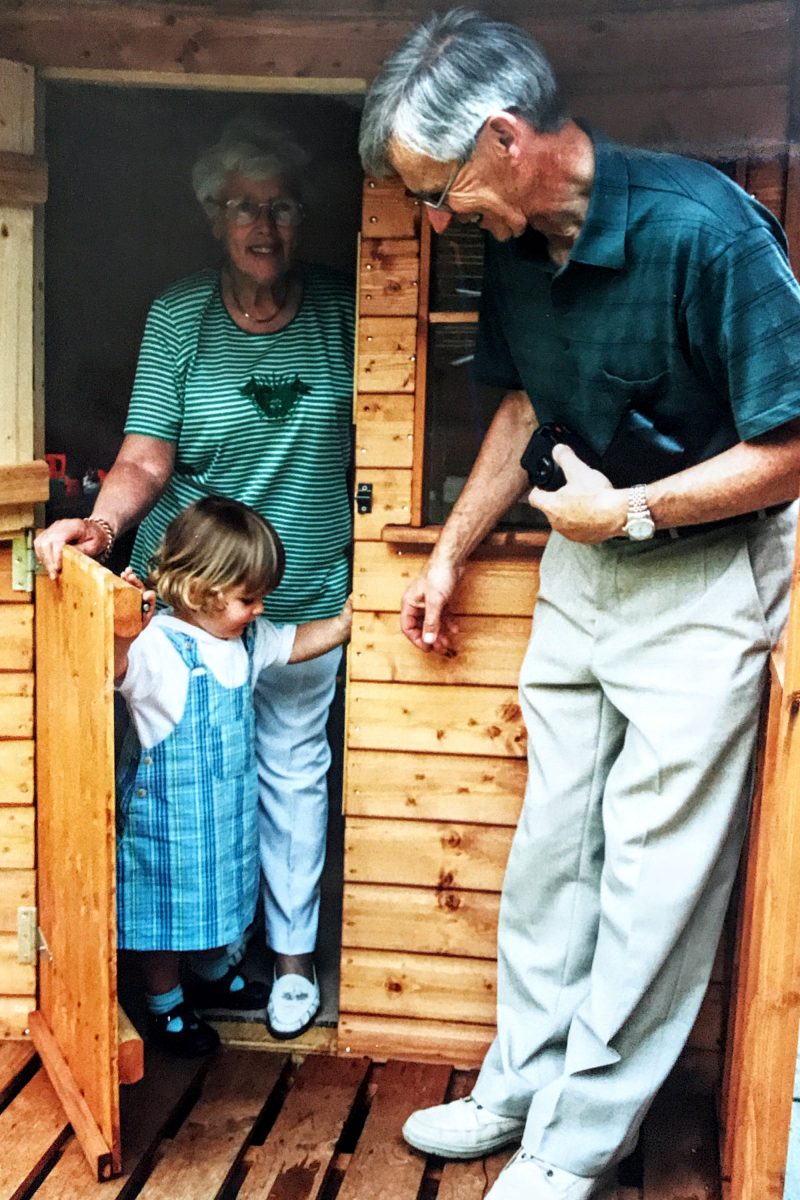 It was a shop / cafe / den / school and many other things while all 3 of our kids were growing up, and lots of the kids in the street played in it too – it could hold a surprising amount of them!
However, probably hadn't been "played in" in a couple of years, and was starting to look more than a bit unloved.
Last summer we painted it blue on the outside, and I enjoyed the colourful backdrop it gave to some of my photos and buggy visitors to our garden.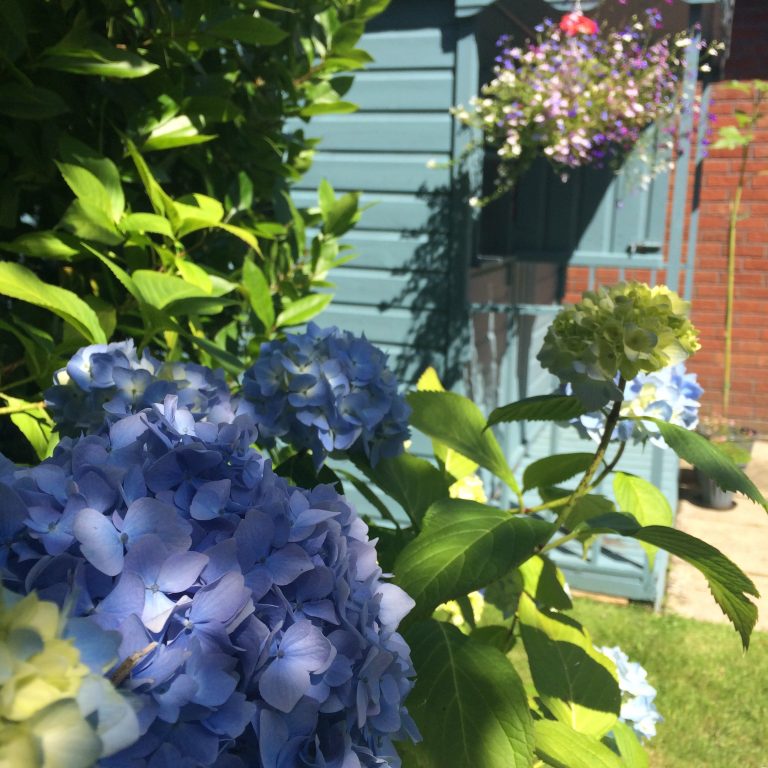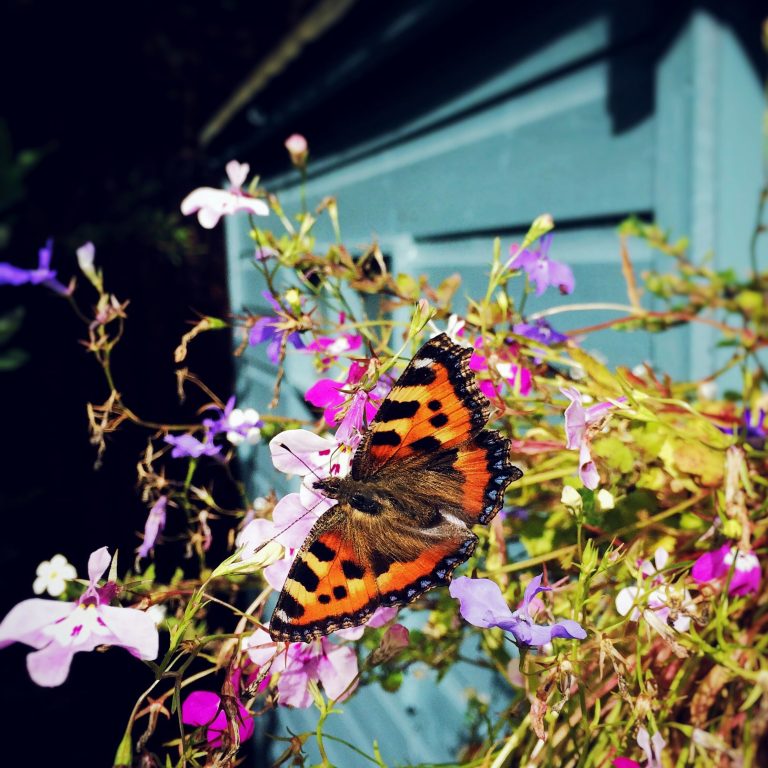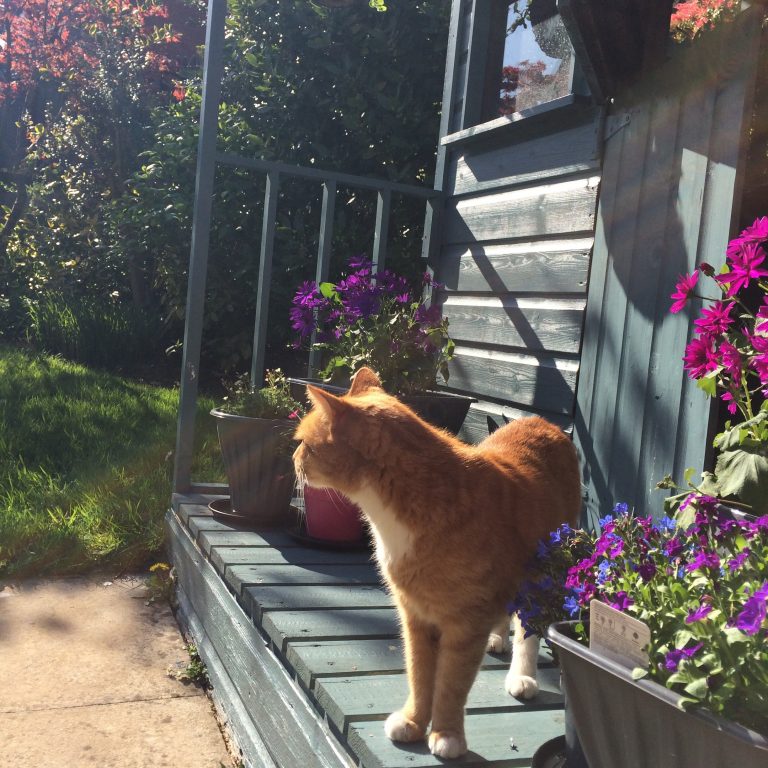 However after this winter (which wasn't especially harsh) the roof began to sag and collapse, and the time had come for drastic action.
My husband and I always planned "at some stage" to replace the playhouse with some sort of she-shed / man-cave / garden room ….. not planning it to be this year, but when it became obvious that any repairs to the playhouse were only going to be a temporary fix, we began to look around at some options.
Of course pinterest was very helpful and we were undecided between a traditional style and a more contempary style.
The decision was finally made for us, as we wanted to have electricity and insulation so we could use the space year round, and the best option for that was a comtemporary shed/garden office from Ahead in Sheds in Lisburn.
We were able to specify dimensions, colour of wood and trim, the size of the doors (we opted for extra wide doors) and the location of any windows (we opted for a high horizontal window of the south/west side of the shed to get the evening sun.
The shed company were able to recommend someone to remove the old shed and clear the site. Our kids weren't so happy with the playhouse being torn down, but I recorded some footage for posterity! (very short and a bit wobbly, sorry about that!)
The new shed arrived the week before Easter, and was totally installed in about 5 or 6 hours.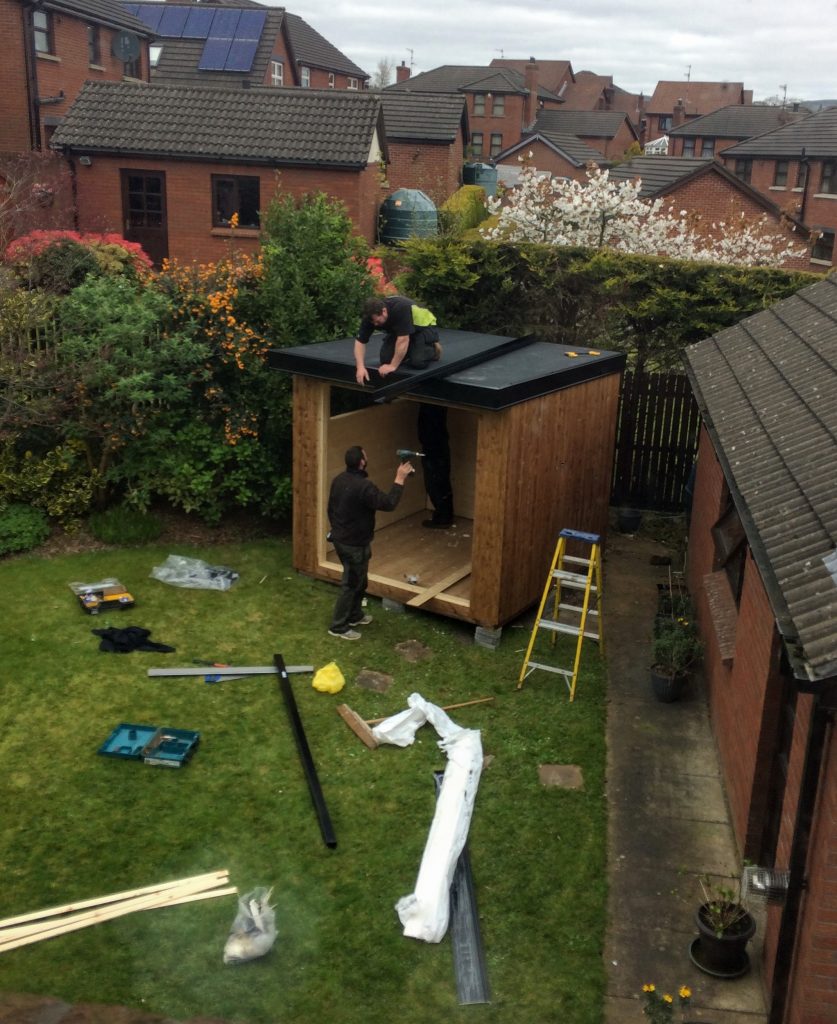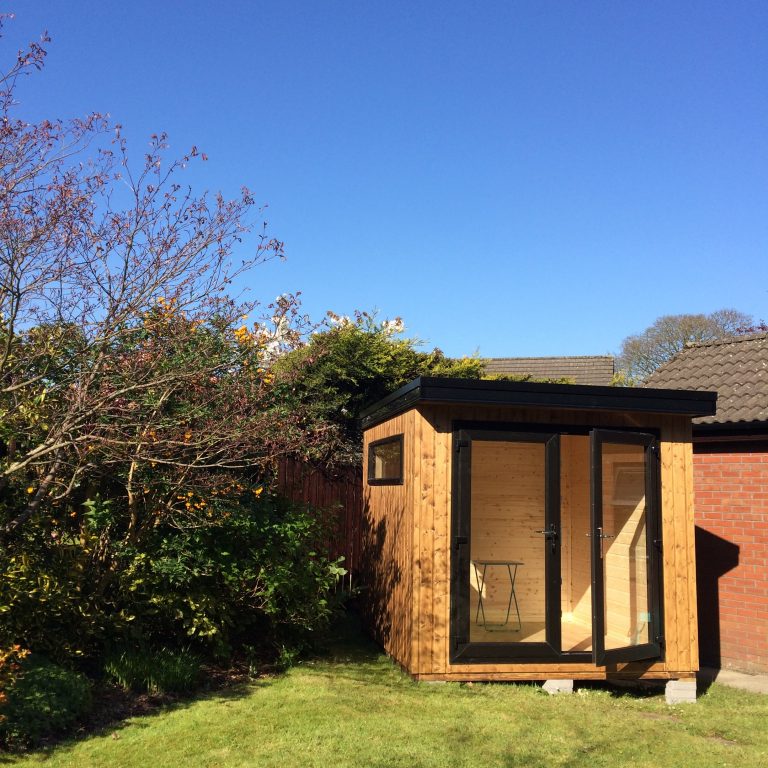 The electrician came the next week – spotlights outside and inside, and some electric sockets.
We searched high and low for the perfect sofa, and ended up choosing this one from DFS.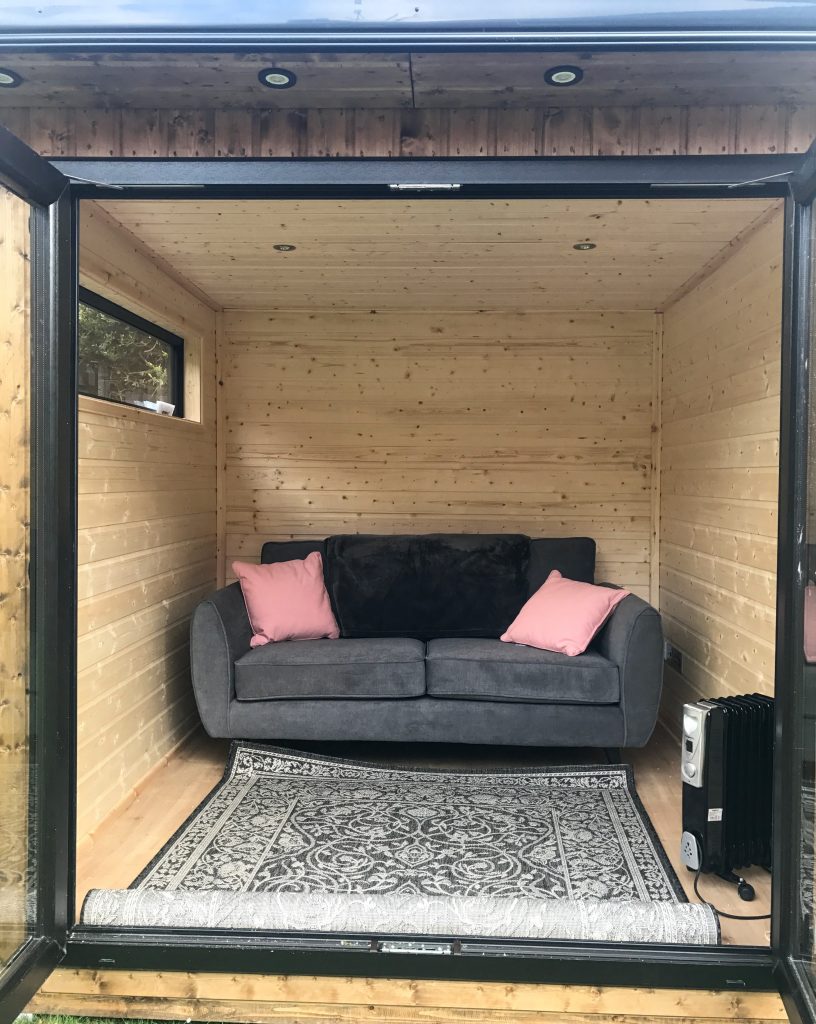 The rug came from Dunelm, as did the grey checked cushion.
The 2 pink cushions were from Marks and Spencers.
The floor lamp was from Sostrene Grene
The oil-filled radiator was bought from Amazon.
Any stools/ small side tables in our possession that might be vaguely suitable are being painted in grey chalk paint and haven't quite decided which we will use.  Floor space is at a premium and I don't want it to feel cramped. I have also promised NOT to clutter it up with my "stuff"
This weekend past my husband painted the inside white, using a primer that included a sealant for the knotty wood.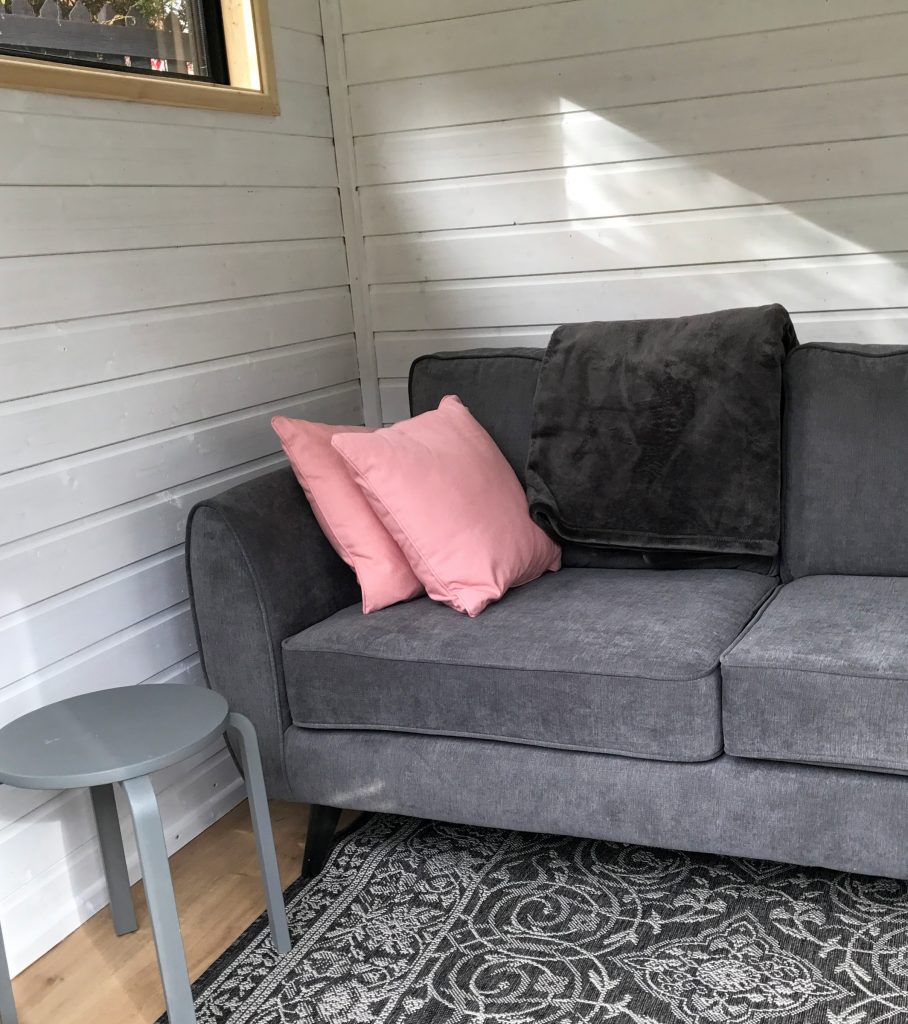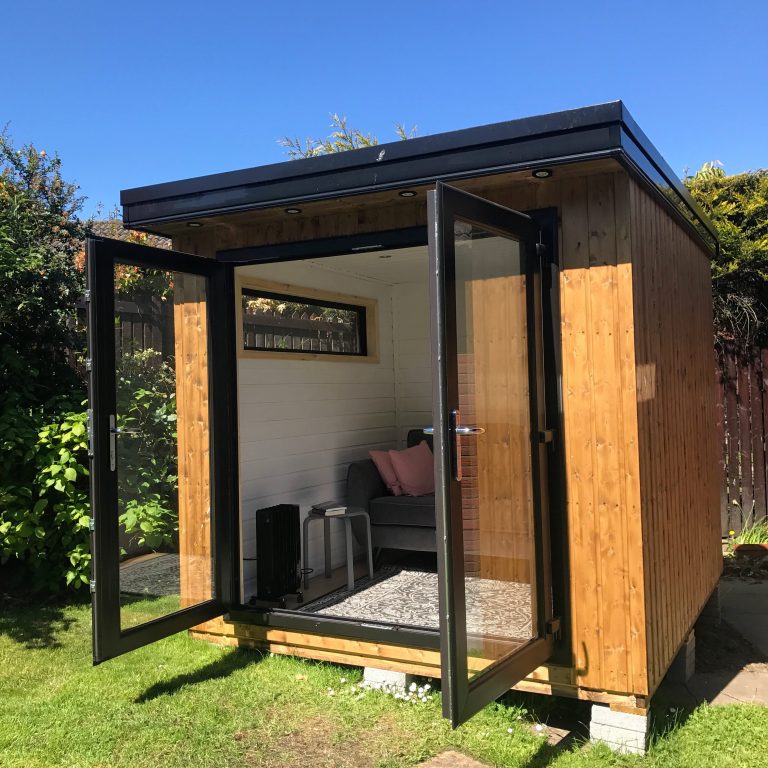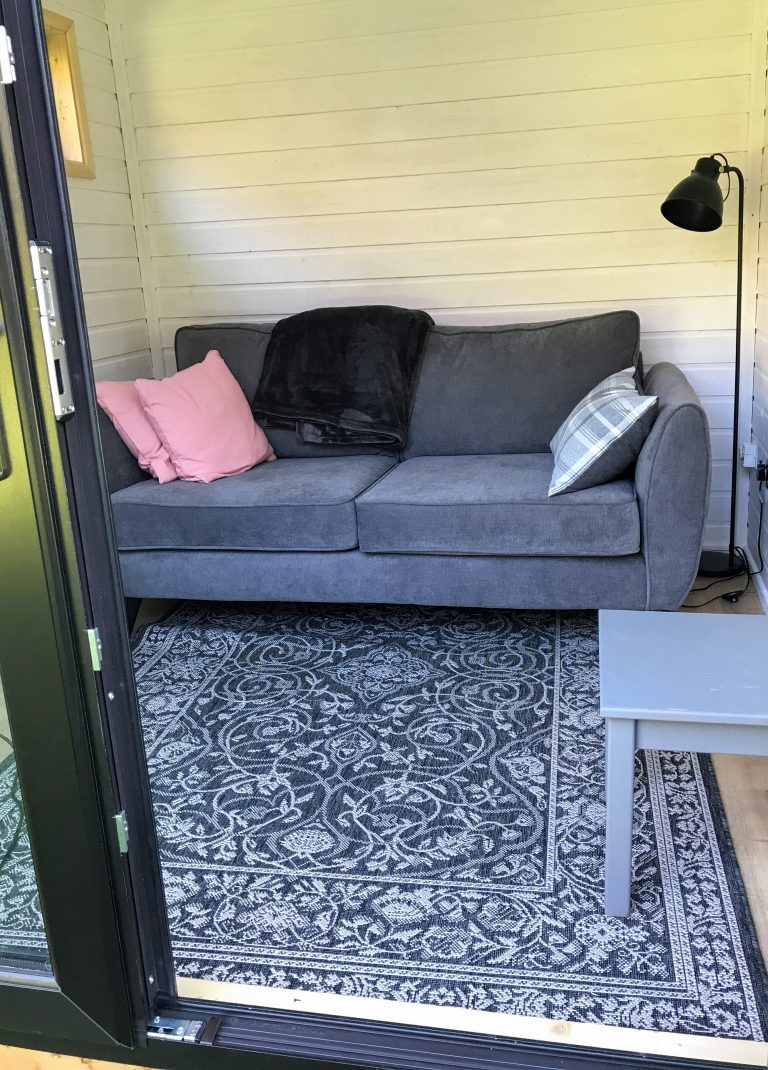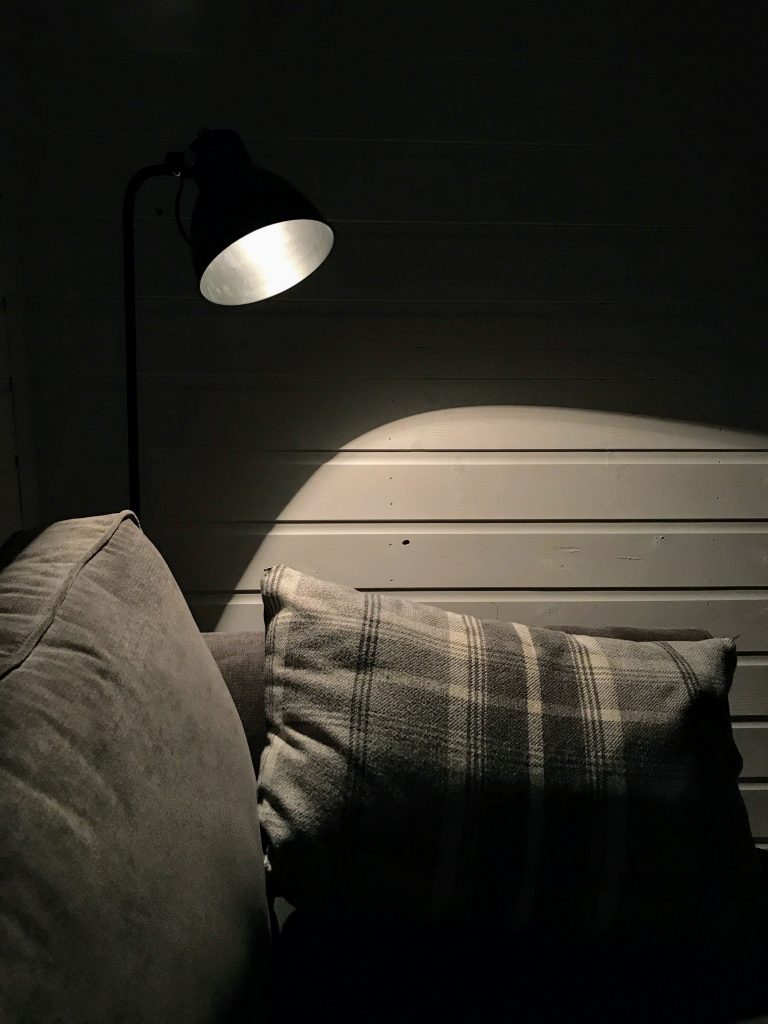 The only job left to do is to arrange for some paving outside.
So ….. what do we plan to use it for ….
as a breathing space
for early morning coffees or after-dinner cups of tea (hence jokingly calling it the "coffee chapel"
I will use it to photograph my jewellery and other "flatlay faffing" – that is partly why I wanted to paint it white on the inside!
reading
blogging
watching Netflix and iPlayer – yes the wifi signal is strong enough!
What would you use a space like this for?
And what would you call it? Still getting called lots of things – but usually just "the shed"
Do comment and let me know your thoughts,
Thanks