Mother Hen Blog Challenge Day 3
I'm not following today's suggested prompt, but chatting about my shed instead!
As a 50th birthday present to each other, my husband and I treated ourselves a shed for our garden.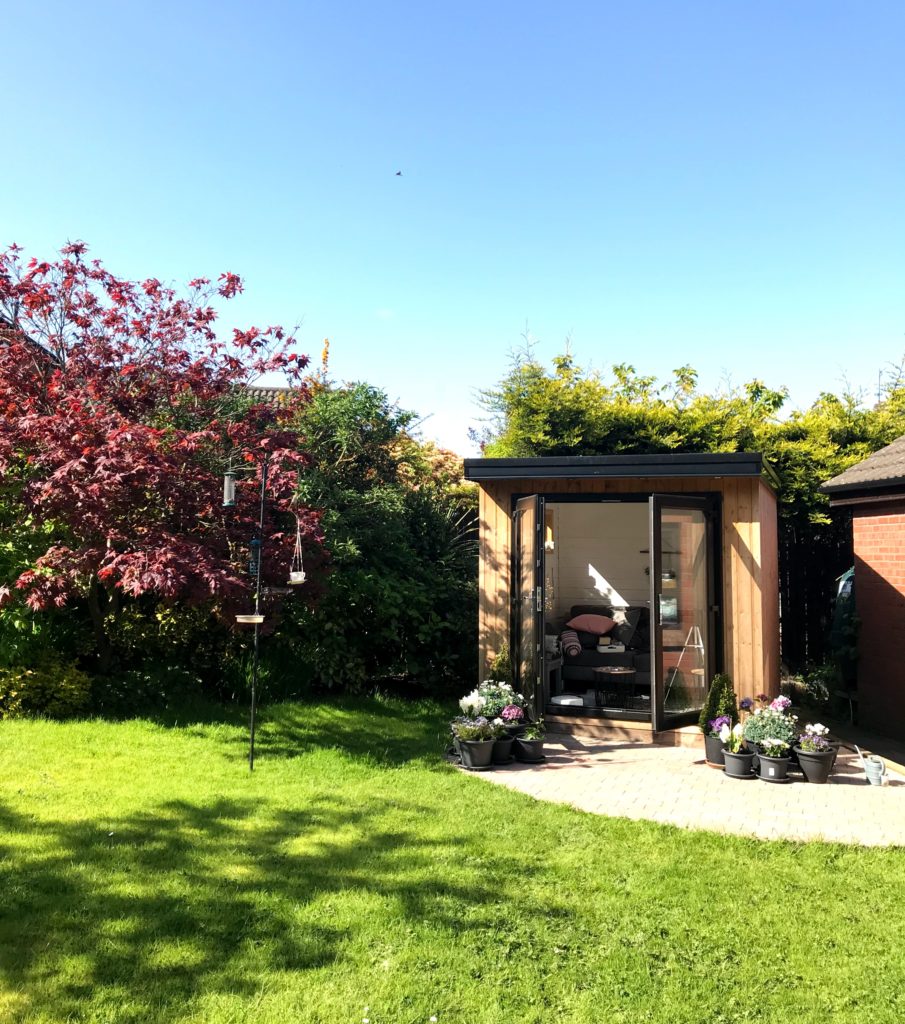 Previously this part of the garden had our kids playhouse in it, but as our kids had outgrown it and it was literally falling apart we decided now was the time to replace it and claim that corner for us.
Our ideas / requirements
I had many images saved on Pinterest, and had a reasonable idea of how I wanted it, and what we would use it for.
Our essential criteria were
fully insulated with electric
heating so it could be used all year round
Working from home with my blogging and jewellery business (www.janmarydesigns.com) it was important to have somewhere with good light for taking photographs of my jewellery – I am also rather obsessed with photographing flatlays for Instagram (now that my kids are no longer willing subjects of my camera lens)
We opted for a contemporary design with full width front doors for lots of natural light, and a local company Ahead In Sheds were able to design, deliver and install just what we needed.
Here it is just after it was assembled, before the paving was completed :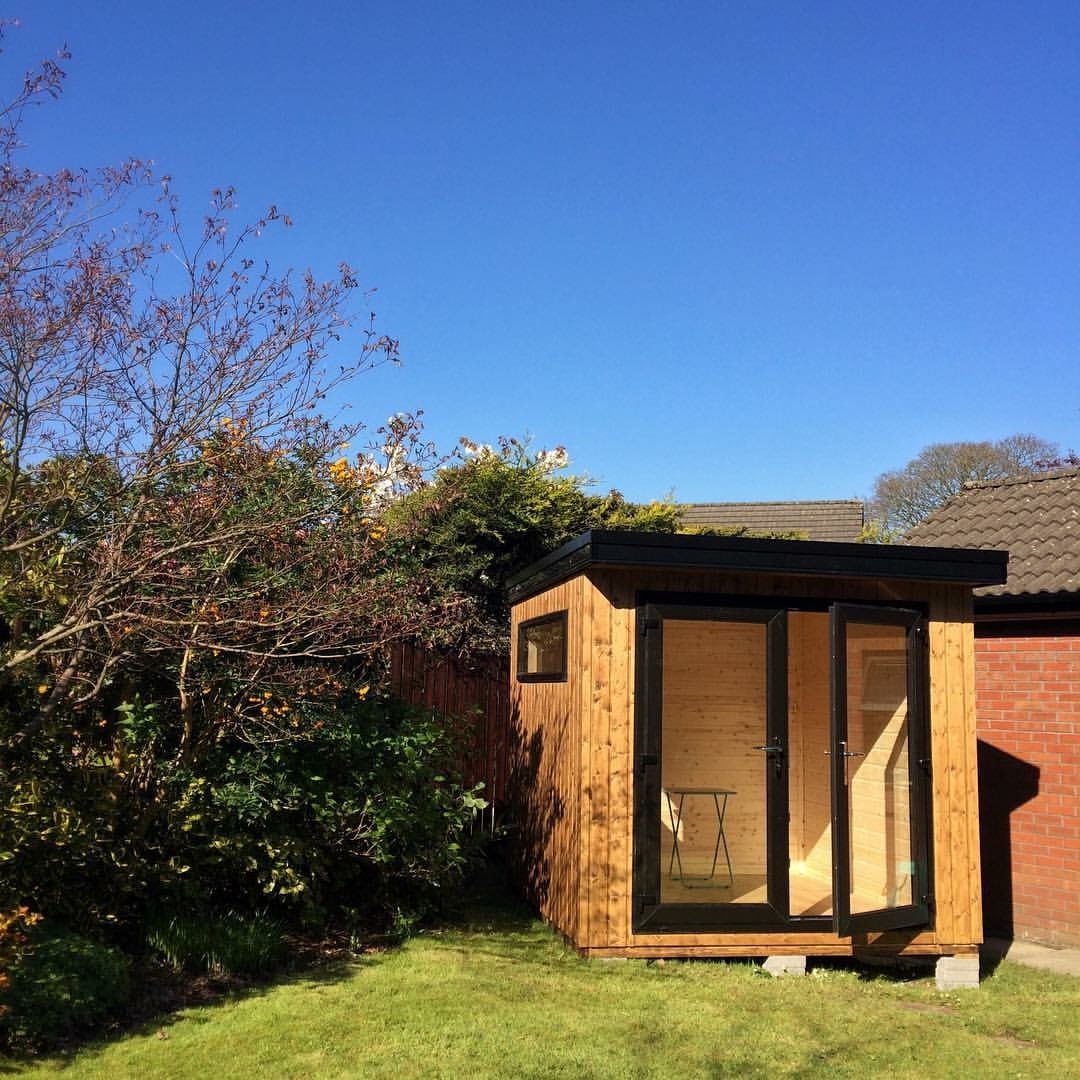 We chose just one raised side window which allows in more light, but then still gives 2 blank walls with display / backdrops.
The only regret is we should have had this side window having the option to be opened, as it can get quite warm with the sun in or heat on, and the only quick option is to leave one of the doors slightly ajar.
There is nothing I love more however than on a warm sunny afternoon, sitting in the shed working with the doors flung wide open to the garden.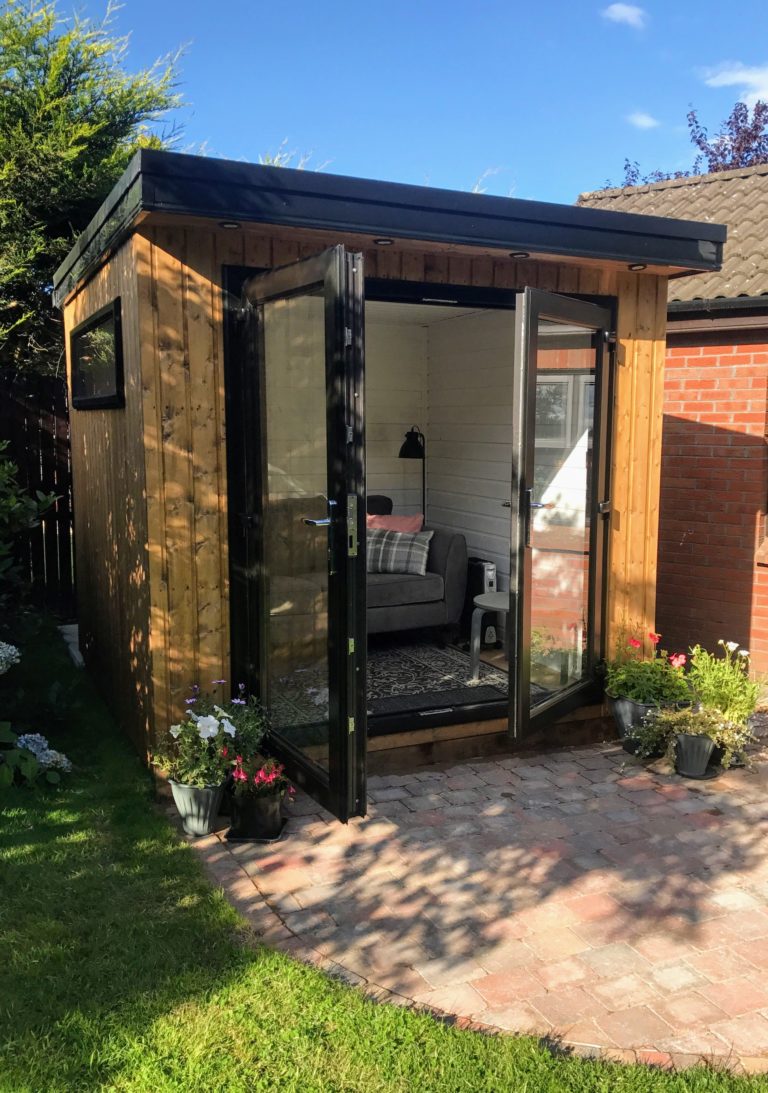 As a direct result of having our shed, we now appreciate our garden much more, and I loved planting out lots of pots and containers with colour throughout the year.
Decorating the shed…..
Designing the outside of the shed was only the first step …… my husband thought that once it was up that would be it …… but returning to my Pinterest boards I knew the style/look I was after. I wanted white painted walls (with the wood grain still showing through), a grey contemporary sofa (we found one the perfect length in DFS) and one or two side tables/stools. The table/stools were repurposed ones painted with some chalk paint.
We left the floor in its natural state, just adding a large rug from Dunelm.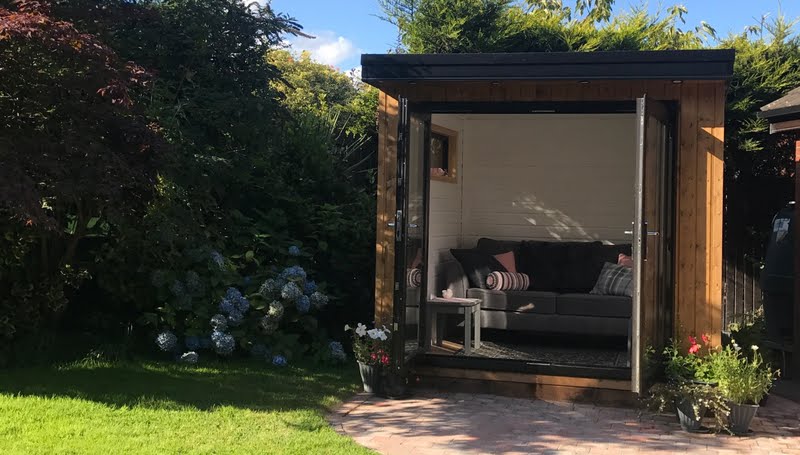 Apart from the shallow window sill under the horizontal window, and the small table, we didn't really have any other shelves/surfaces. There wasn't room for free-standing shelves but I didn't want to be tied by permanent shelves on the walls. Finally I found a shabby ladder which I use to hang flowers from, and also have some hanging planters which I use for books as well as plants. I can easily move it out of the way if I need a full expanse of wall as a photography backdrop when styling photos for my jewellery website.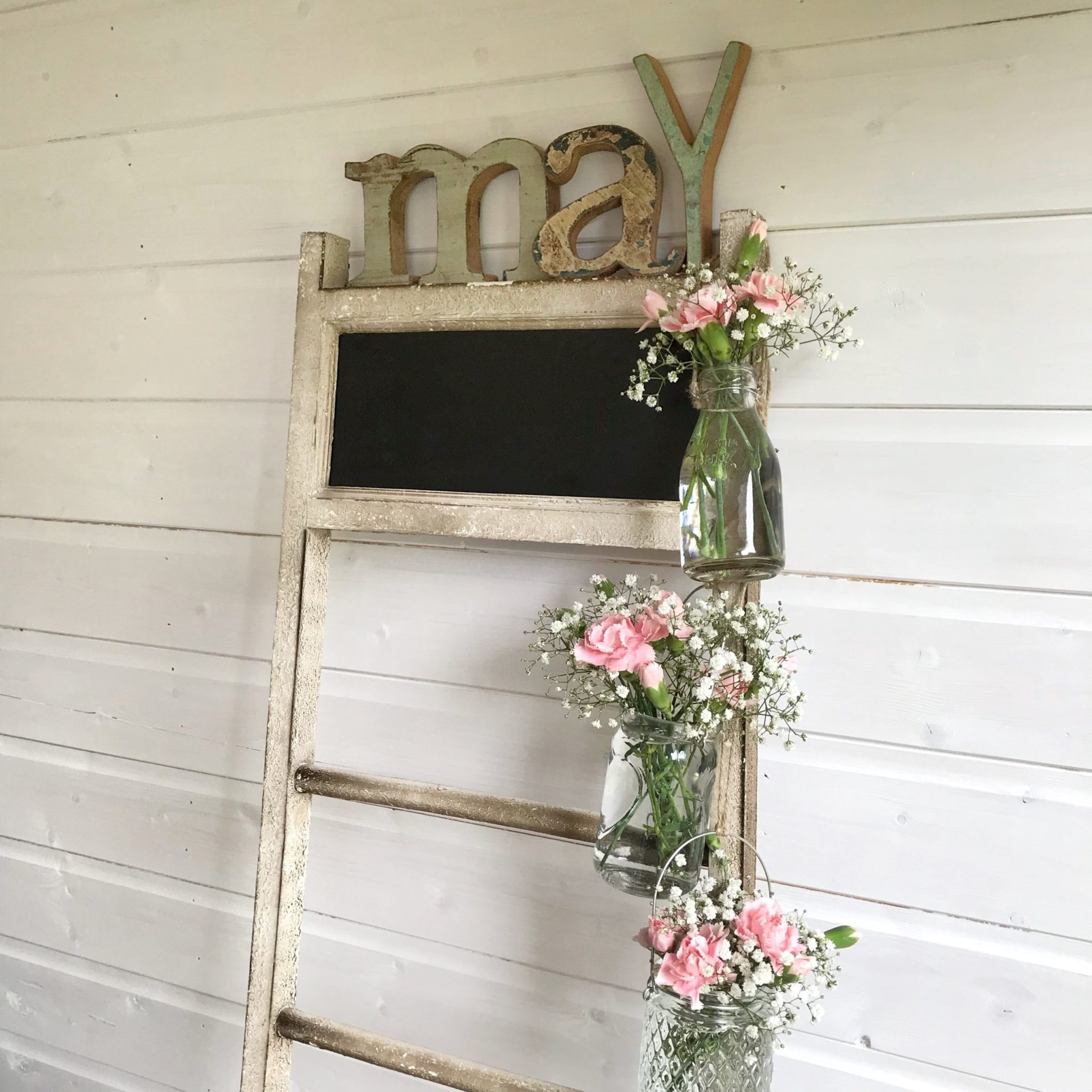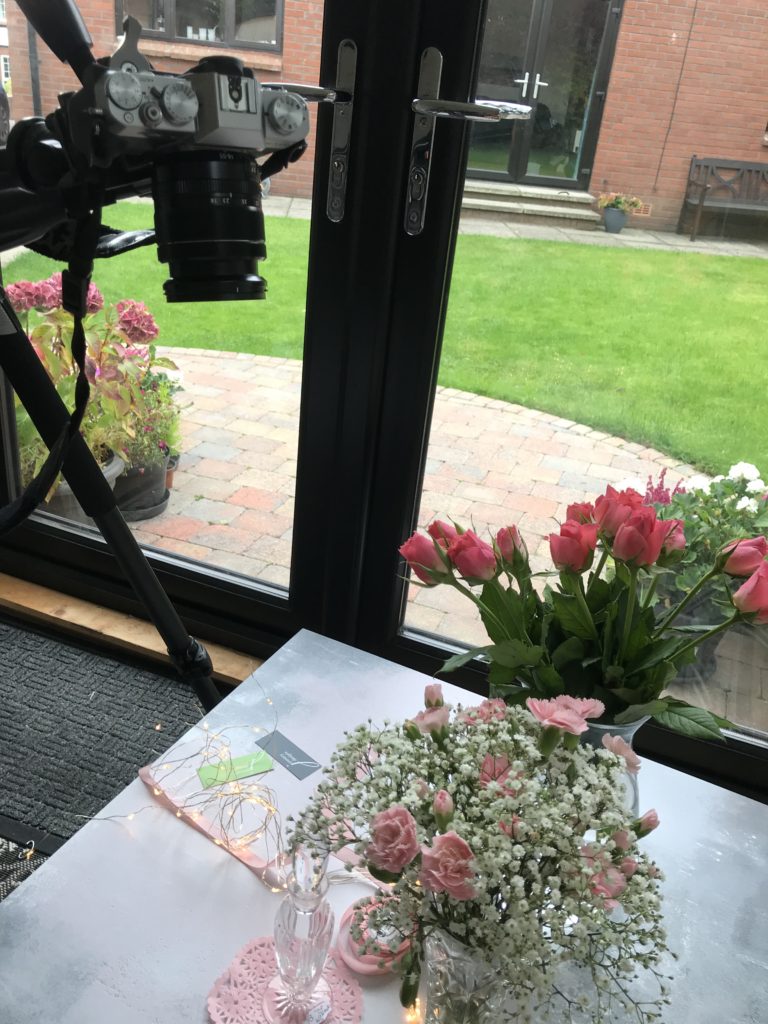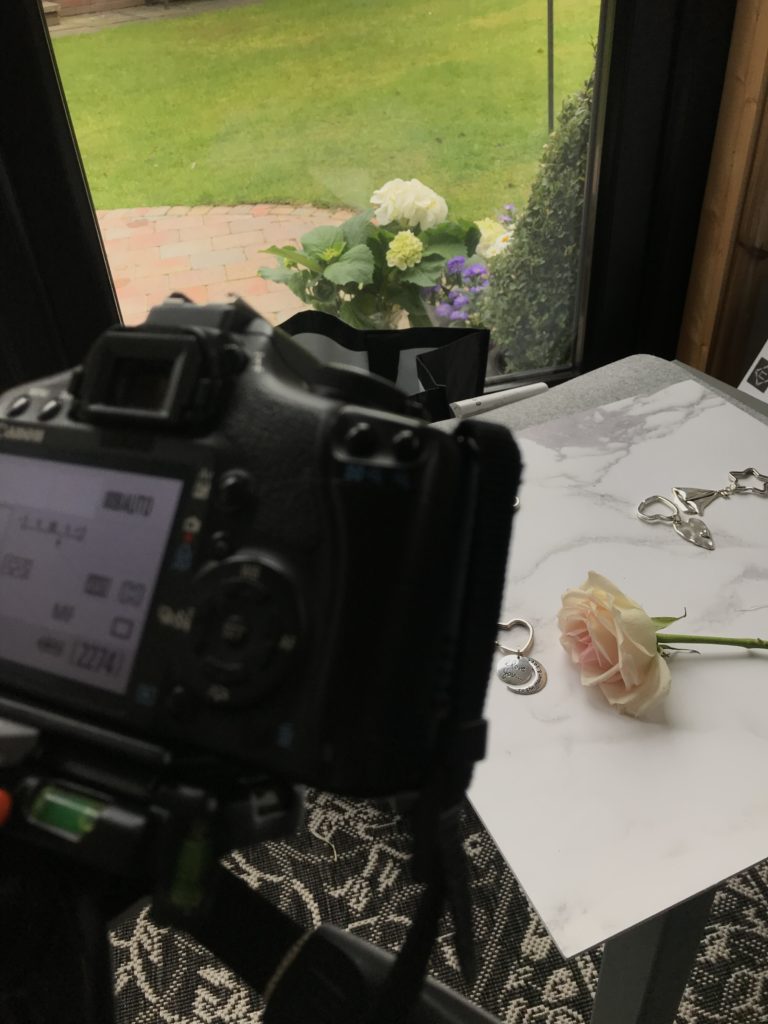 Lighting
We have main ceiling spotlights but my preferred lighting includes a hanging star with fairylights, and a very long string of over 400 fairy lights which I have suspended from the back of the ceiling over the sofa. There is also a tall spot lamp from Sostrene Grene which is perfect for reading.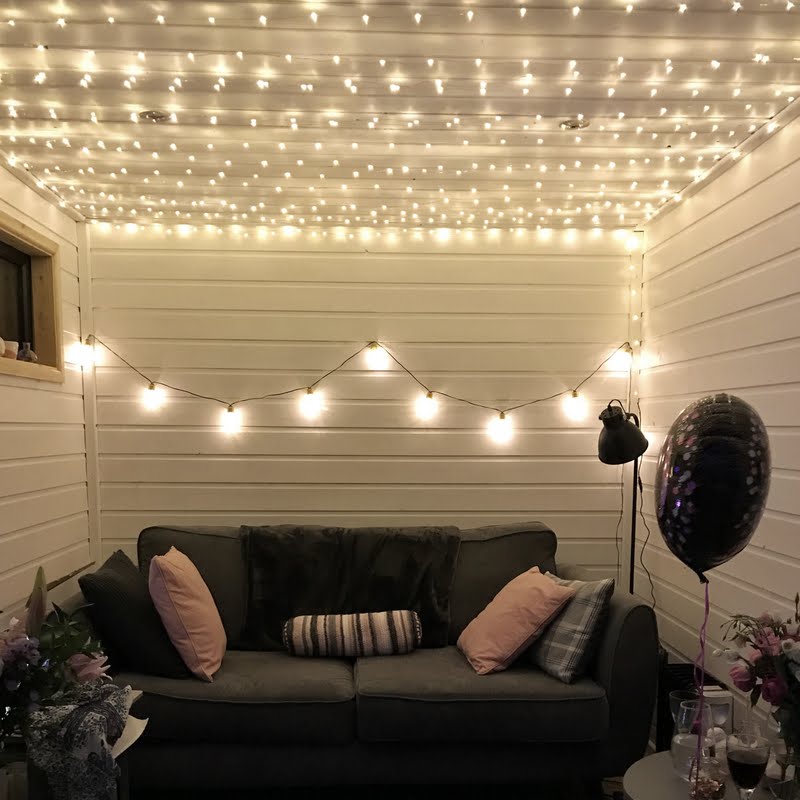 How we use our shed
My husband and I use the space in very different ways.
As an early riser my husband loves to head out there with an early morning cup of coffee. He prefers to keep it a work-free zone, and enjoys having a coffee there in the evening too.
I love using it during the day for writing, photography and faffing with flatlays. I occasionally make some jewellery out there too, but my workbench is usually the dining room table. I love having a separate space to escape to, without the hassle of a commute, traffic or parking. It is a lovely space to chill, read, crochet, and to do my instastories without feeling so self conscious! It was a favourite snoozing spot for our old cat George, and Garfield still appreciates time spent snoozing there too.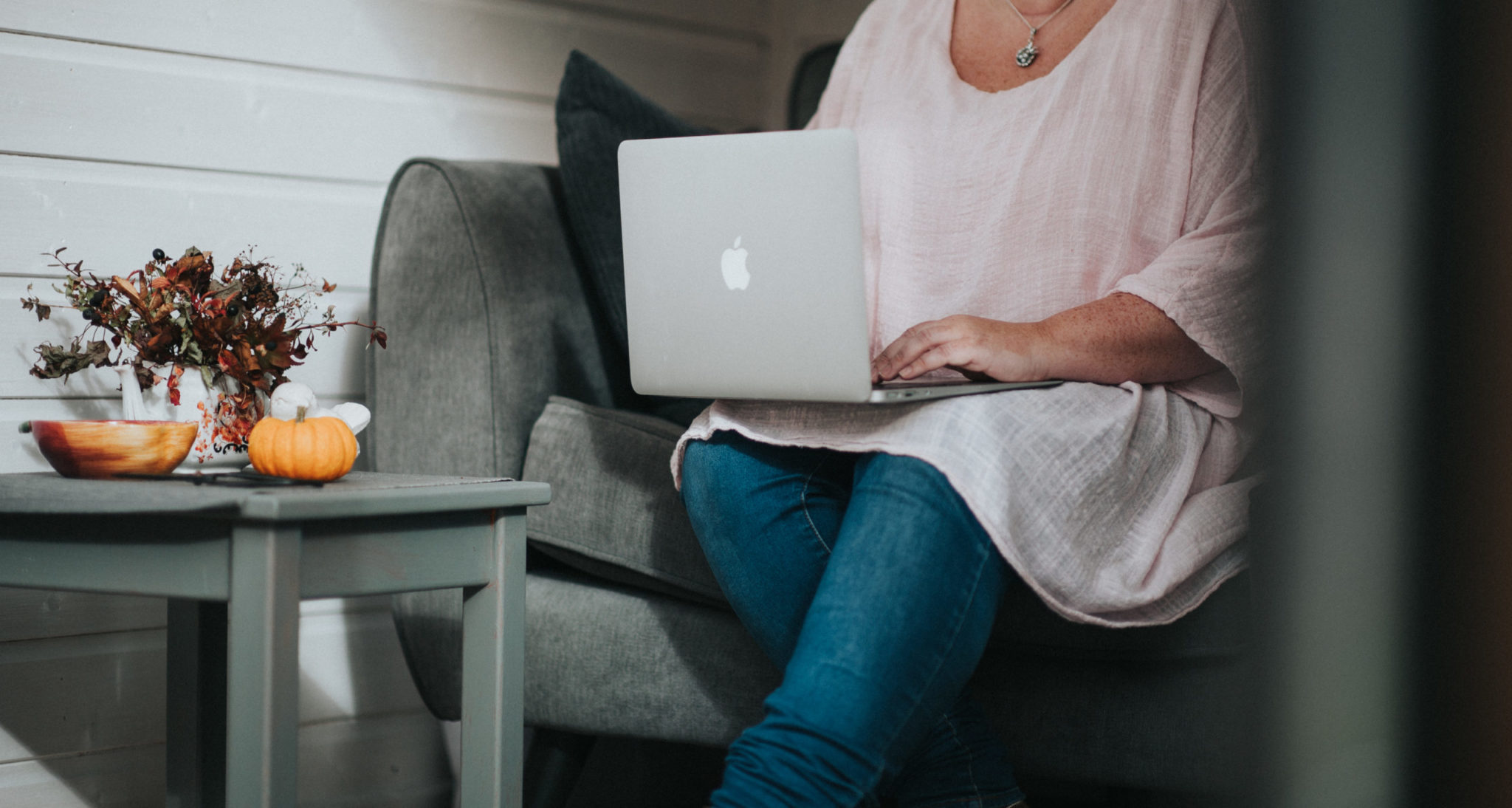 What's in a name?
Our shed has many names – some say it is too posh to be called a shed, but to me garden room or studio just don't work. We jokingly call it the Coffee Chapel as it is my husband's coffee sanctuary. My son likes to tell anyone who will listen "My parents call it their shed but I call it "My Inheritence" as he reckons we have spent most of his inheritance on it!
To me it will also just be my (our) shed, my (our) happy place.
My husband and I are both amazed by just how much we use it – almost daily, throughout the year. With the new paving area in front with lots of plants in pots we use and appreciate our back garden so much more than we ever thought we would.
The ups and the downs?
Downsides – haven't really discovered any apart from wishing we had a small window that opened for a wee bit more air when it gets too hot.
Upsides – a space to "get away" in about 20 steps across the garden (best commute – never any traffic), to be able to work with the doors flung open (in the warmer weather) or watching the birds feed in a snowy garden while I blog just a few feet away. In a busy world it is a wee tranquil spot to escape to.
So there you have it …. our shed …. I think I have probably covered most of the questions asked – but here are a few more
What size is it? 8×8 ft
Where is your sofa, lamp and ladder from? DFS, Sostrene Grene and Clotworthy Gift Shop in Antrim
What would you change if you were doing it again? Probably add an additional side window, and have those windows be able to open.
Did it turn out the way you envisaged? Yes, probably better – use it daily, basically all year round.
Any more questions – just ask!