I am starting todays post with a new digital scrapbooking Spring layout, for a challenge about why I love spring.
When I found this quote I knew exactly how I wanted my page to look.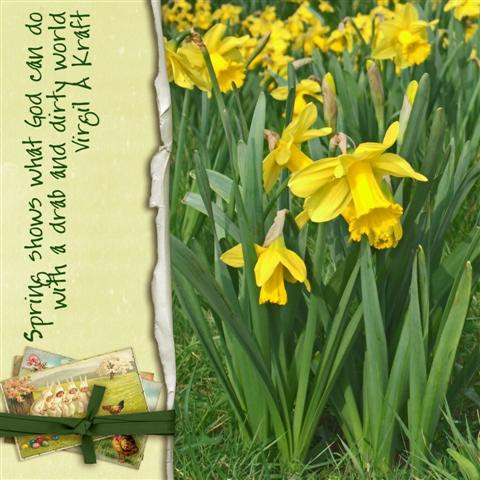 Credits – Paper, ribbon and vintage cards by Lara Payton at Dusty Bear
Paper Curl by M Reckinger
I love Shannon's blog Rocks in my Dryer, and have often followed her Works For Me Wednesdays where bloggers link their tips. This week it is a backwards version, so we can ask a question and hopefully get some replies!
So my question is
If you listen to Podcasts……which podcasts do you recommend and why?
Here are some of my favourite podcasts, which I listen to on my ipod while out walking, at the gym, or at night when I can't sleep!
Blogging Basics 101
Daily Mayo (BBC Radio 5)
Friday Night Comedy (BBC Radio 4)
Manic Mommies
Mark Kermode Film Reviews (BBC Radio 5)
Science with Dr Karl
The Big Boo Cast
This American Life
I would be particularily keen to find some more mum/parenting/christian podcasts – but not necessarily all 3 in the one show!
So please…help me out!
I will finish up with 2 reminders about GIVEAWAYS
The first is from 7 – 14 March, The ultimate Blog Party, when I am offering a chance to win a Gift Certificate for Weeds & Wildflowers Digital Scrapbooking Store.

The second is my own St Patricks Day giveaway on 17th March, be sure to come back then to be in with a chance of winning a very cute prize. I have been revealing the prize gradually…as well as today's photo I will share the previous ones too. Can you guess what it is?
So you don't miss any of the fun, you can subscribe by clicking the feed button on the top right.
Take care and have a wonderful Wednesday.