Every year I am always full of good intentions to make a spring decoration for the house. Finally this year I found some cute eggs, bunnies and chicks, all for about 50 pence each. While out for a walk I collected a few branches and twigs. All it took was to purchase a bunch of daffodils and….voila!!!
I even made a digi-scrap page to record the momentous occasion!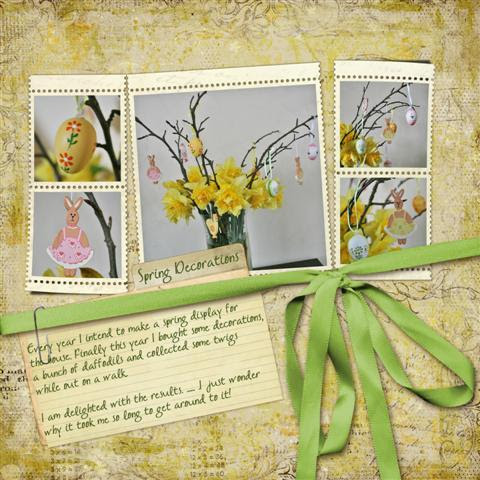 (credits – paper from Soft and Shabby, ribbon from Little Seeds Being Me – both by Gina Marie Huff at Weeds & Wildflowers, index card by Sue Cummings at Oscraps, stamp frame by Meredith Fenwick
I plan to vary the flowers, perhaps buying some tulips next.
For more Works For Me Wednesday, visit Shannon.
What spring decorating go you do?
Over at There is no place like home, there is a spring decorating Mr Linky. So for lots more inspiration head over there.
Only 5 DAYS until my St Patrick's Day giveaway – check back for a few hints of what the prize will be, and be sure to be here on Monday 17th March.
Until then, take care.