Continuing to blog about our recent trip to Italy, and today I will share our experiences of the Hotel a la Commedia, Venice
I am definitely a bit of a planner (or over-planner according to some …. ahem!) when it comes to our holidays/vacations.
I do enjoy looking around on Trip Advisor, and knew I had certain requirements for our hotel
centrally located (walking distance of areas we want to shop/eat/take many photos)
ideally have a roof terrace or some outside space (for those of us in our family who enjoy sitting out in the sun without having to go out – if that makes sense!)
good ratings on Trip Advisor
I opted for Hotel a la Commedia, and we were not disappointed.
Thanks to Jonathan and Linda from Brian Somers Travel in Saintfield with their help in booking our flights and accommodation. Although I enjoy selecting the hotel, I prefer to peace of mind of booking through a travel agent, and Jonathan and Linda always provide a competitive quote.
The hotel was just a short walk from Rialto Bridge (about 2 minutes) and no bridges to cross which when you have suitcases is a big bonus. You can read about our arrival by private water taxi in another blog post. We encountered many tourists hauling luggage up steps and over narrow bridges in Venice and were glad to be so close.
With a view of St Marks bell tower from one side of the roof terrace, and a narrow glimpse of the Grand Canal from another side, the hotel overlooks a small square and some narrow streets. There were some good restaurants and shops close by – a mixture of local boutiques and well known designer brands.
Here are a few pics around the hotel
Our room (302) – large and spacious, and the small fridge accommodated our daily purchases of water, keeping them nicely chilled. This photo doesn't really show the whole room, but here it is anyway!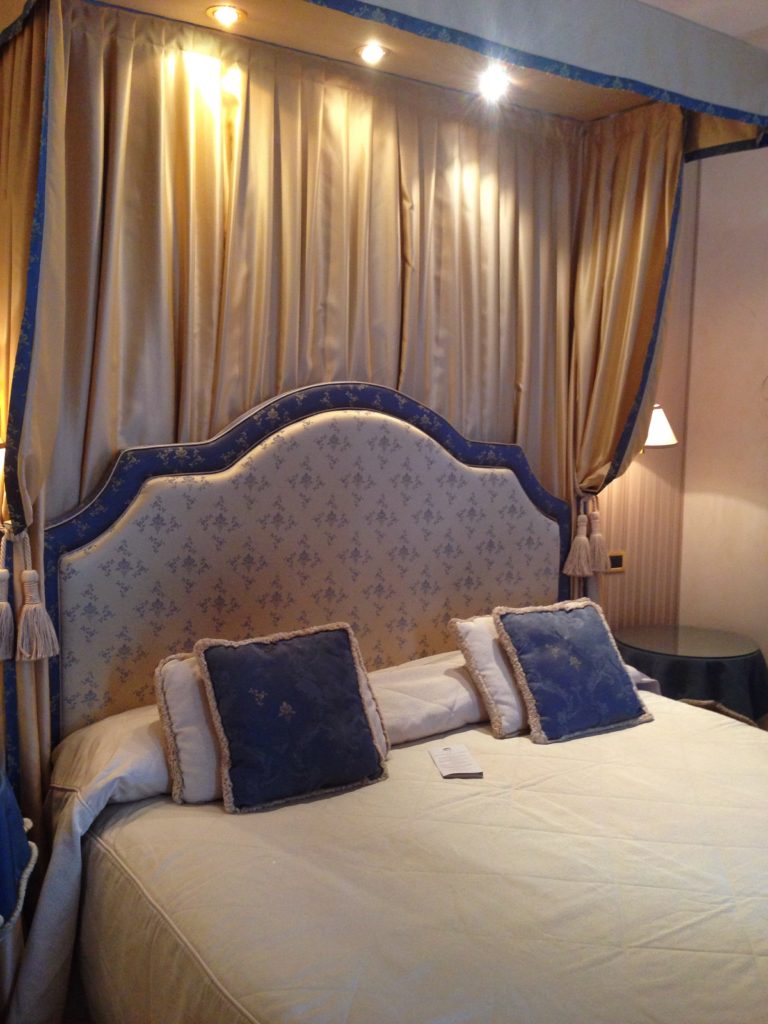 Large bathroom with a large bath and lots of natural light!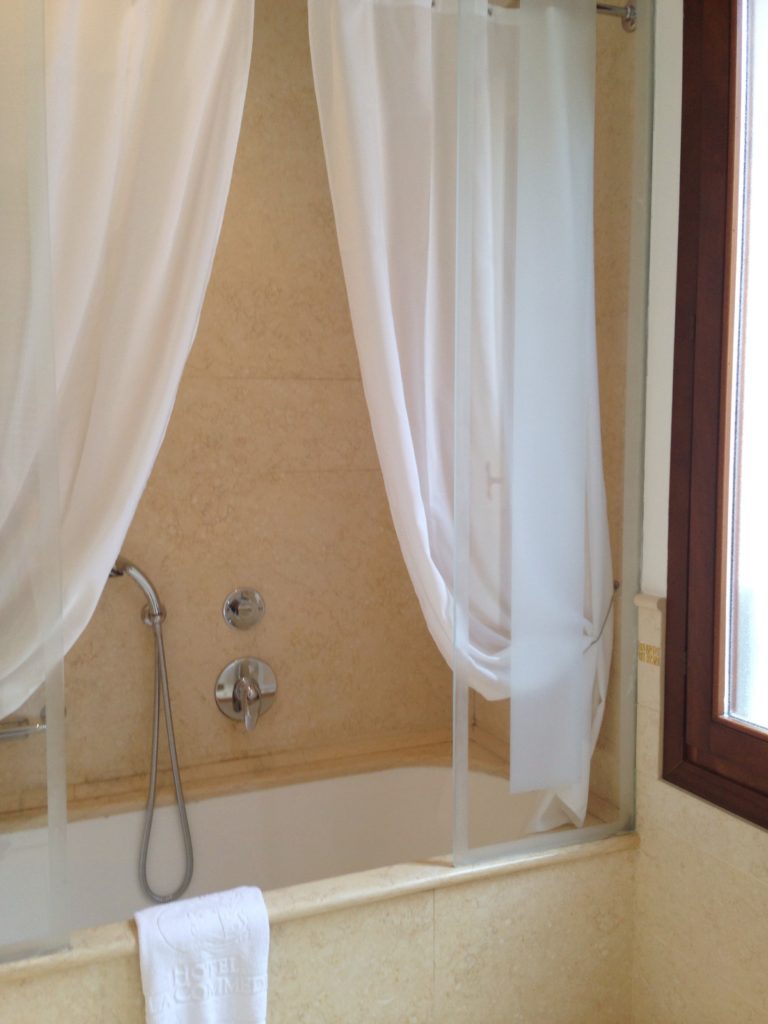 Kids triple room (301) – just next door, so ideal!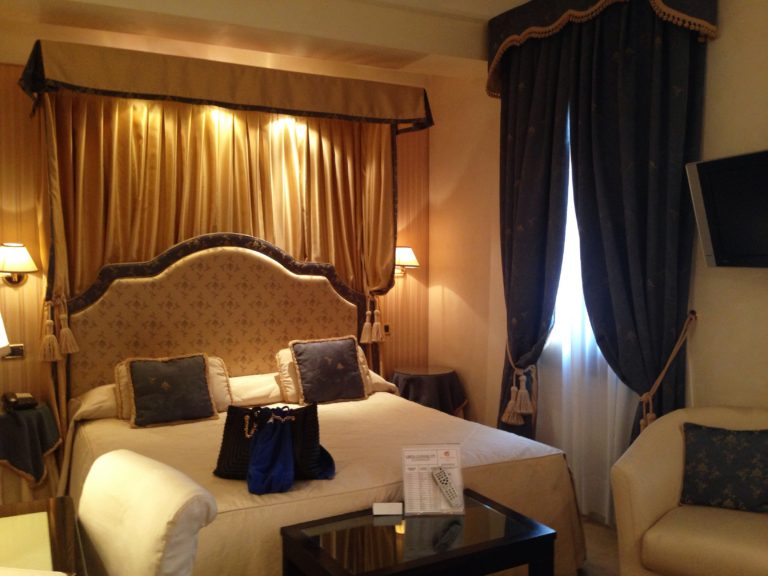 The kids also had large bathroom and the twin sinks were popular with our daughters!
Breakfast room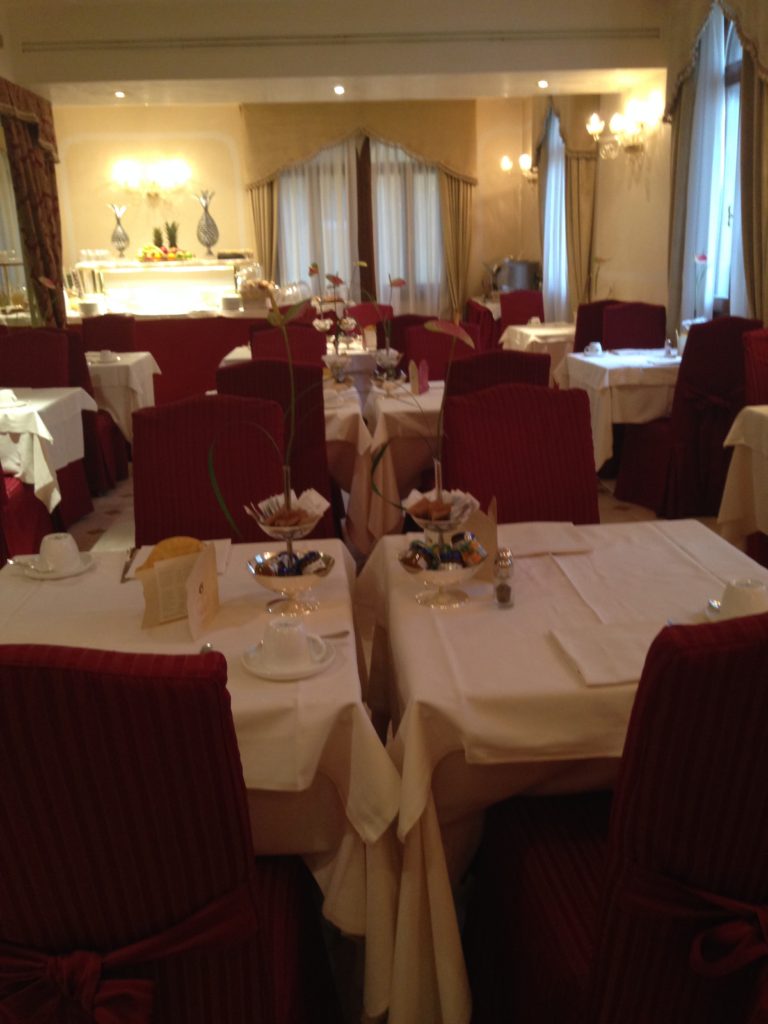 The staff at breakfast were attentive, and by the end of our stay were familiar with our requests for coffee, hot chocolate and hot milk!
Lots of fresh fruit, yoghurt, ham, cheese, cereal, eggs, bacon, toast, croissants (4 varieties!!) and other assorted delicious pastries, it was a great start to each day.
We loved the roof terrace (well the sun-loving members of our family) during the day, and at night it was equally beautiful…
Final photo – walking back to the hotel on the last night… with the torches lit on the roof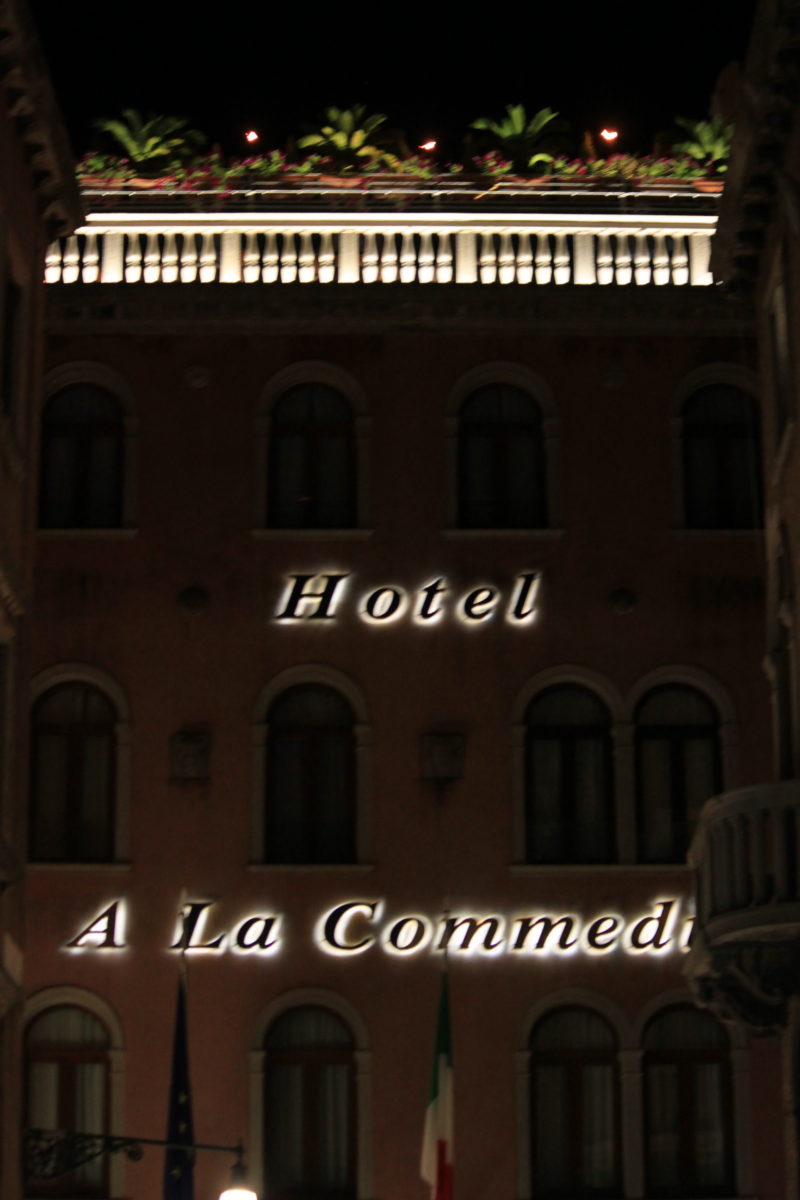 Checking in and out was very smooth, and the reception staff friendly and helpful, especially with a certain 9 year olds MANY questions.
I don't think I could fault the hotel in any aspect, and was the perfect place to stay for our trip to Venice.
What do you look for in a hotel?