Well, today my 2 daughters went back to school – and with such warm sunny weather continuing they both chose to wear their school summer dresses (light bue checked gingham). They looked really cute, but I'm not allowed to say that out loud any more – cool or nice, maybe even lovely, but not cute!
So back to school, pack lunches (including the inevitable ham sandwiches), school runs, and today is also swimming after school for my 7 year old – as the title of the my post says "Mum's Taxi" is on the road again. House seemed quiet at first with just Sam (2 1/2) at home – but he had a huge tantrum and soon destroyed any peace – decided to give Mothers & Toddlers at church a miss today.
Anyway – here is a spring layout of the aforementioned toddler last week at a park in Portstewart while on holiday.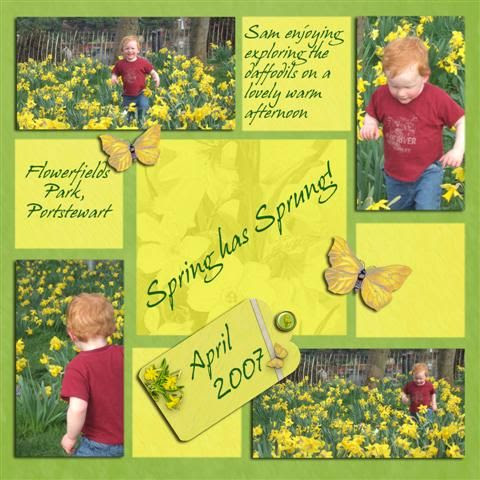 Credits – a wonderful freebie kit Signs of Spring by Doxie Designs – check out her blog from the links on the right. Font Hanshand.
Let me know what you think,
Take care for now