I love John Lewis stores, and  although there isn't one YET in N Ireland, I live in hope!
So when I was asked to blog about fridge/freezers on their behalf, I headed over to their website and did some "Virtual" shopping!
My American friends are probably bemused by the term we use here of "American-style" fridge freezers – we basically mean HUGE! Standard-sized fridges are dwarfed in comparison, and when we gave our kitchen a makeover a few years ago, one of our favourite new appliances had to be our "American-style" fridge/freezer with built-in water and ice dispenser (both crushed AND cubed ice!)
When we chose our fridge/freezer we wanted the brushed stainless steel finish, but I must say this cream one by Rangemaster catches my eye!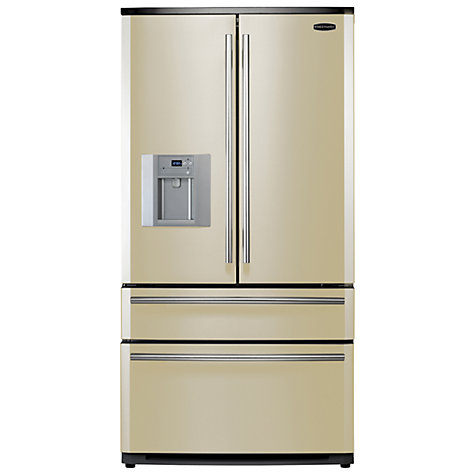 I believe everyone falls into two categories : those who love an uncluttered fridge, and those who share their lives on the fridge … as you can see from this photo, I fall into the latter!
Do you have a clutter-free fridge/freezer? I'd love to know!
Curious about what's in my fridge? Probably not (and I don't blame you!), but in case you really want to know …. check out this post What's in my fridge?
Of course, I can't blog about fridges/freezers without mentioning UFO's – unidentified food objects. No matter how many times I closely exam a frozen plastic container and try to identify if it is chilli or curry – I still don't remember to label them before they go into the freezer. I am always convinced I will remember THIS time, but never do!
I was compensated for this featured post, but all opinions expressed are entirely my own!